Sunday, November 21, 2010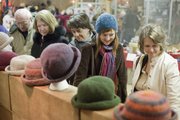 Past Event
Saturday, December 11, 2010, 9 a.m. to 5 p.m.
Holiday Inn Lawrence, 200 McDonald Drive, Lawrence
Not available
After months of offering up locally grown fruits and vegetables for residents' consumption, the Lawrence Farmers' Market will be closing for the year, though, not before one final holiday edition of the market next month.
This year, the Holiday Farmers' Market will be held at the Lawrence Holidome, 200 McDonald Drive, relocating from its previous location at the Knights of Columbus Hall.
Vendor and market organizer Jack Wilson says the move was necessary, and he expects an improved experience for everyone involved.
"We can now have it all on one level," he says. "There's lots of parking. We want to let everyone know that it's moved, because it's a great event for the vendors and a great event for the buyers because they can do a lot of their holiday shopping in one fell swoop. You can take Dec. 11th and finish your holiday shopping. These are local folks, these are all local vendors — people are buying local products."
Wilson's particular local product is lavender. He and his wife, Kathy, harvest the fragrant crop on their farm south of Clinton Lake and insert its essence into their many products.
"We have about 4,000 lavender plants, and we manufacture products. We have sachets (bags of lavender). Lavender is a great sleep aid, it's got a great fragrance, and it's relaxing. We have dryer sheets that you put into your clothes, and they make your clothes smell fresh. We have coasters with lavender inserts, so when you set your cup of coffee on it, the fragrance is released."
Besides his ubiquitous lavender, Wilson says other vendors bring a wide variety of products to the Holiday Farmers' Market. He says at this particular event there are lots of specialty items the farmers have in addition to their regularly harvested crops.
For vendors John and Karen Pendleton, the Holiday Farmers' Market is their chance to get creative. Though they have pickled some of their earlier harvested items, such as asparagus, and will have a few hangers-on from the summer and fall growing seasons, their favorite items to sell at the final market of the year are their fairy houses.
A fairy house, according to John Pendleton: "It's a dried gourd, so we carve out doors and carve out a doorway and decorate it and put it on a little base. We have dried morel mushrooms we incorporate in the landscape. We have dried flowers. We actually take cedar plants and make a mixture with various plants we grow. They'll last for years and years."
Karen Pendleton says since many of the vendors rely on the markets for income, this holiday event is a last hurrah for some of them, and also a last chance to make money with their harvests for a few months. She noted garden gnome dolls made of pepper plants as one of the more interesting things she'd ever seen sold at the market, while her husband recalled a grow-your-own shiitake mushroom log he'd purchased in the past. All of this diversity, they say, is great for holiday shoppers.
"The Holiday Farmers Market is a tremendous combination of people buying things for themselves and buying gifts for others," Karen Pendleton says. "It's a wonderful place to find (gifts). Not just from us, all of our vendors — vendors, bakers, people with pickled produce. It's really an extraordinary market."
John Pendleton says the bond between all of the vendors and the long-term local customers adds to the market's comfortable, family environment.
"There's the camaraderie of the vendors, then again you've got this tremendous, loyal customer base. There are people there every single Saturday morning. They're as loyal to the farmers' market as they can be. To see those folks at the Holiday Farmers' Market is just fantastic."
Jozie Schimke, chair of the farmers' market board of directors, also says the communal bond between the market's participants is something special. The Holiday Farmers' Market offers her a chance to renew friendships with her fellow vendors.
"The best part, I guess it's seeing all of our vendors again, because we're all friends," she says. "We haven't seen each other. Most of us stop coming around mid-September, even though the market goes until mid-November. That's what I like."
Beyond seeing the approximately 50 vendors she says will be at this year's Holiday Farmers' Market, Schimke thinks the market is good for the community of Lawrence and even helps the city's overall health.
"A lot of our old customers come, so we get to see them again, too. I like that. I really think the farmers' market is a community event. The farmers' market is where you find food with taste. A lot of people don't eat vegetables because they don't get any with flavor. To support local business is a wonderful thing."
When: 9 a.m.-5 p.m. Dec. 11
Where: Lawrence Holidome, 200 McDonald Drive