Tuesday, November 23, 2010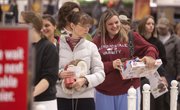 Are you ready to shop?
Ready to stand in line 4 a.m. in hopes of getting an iPad for $40? Spend more money than you make in a week? Elbow your way to the final copy of "Toy Story 3" on Blu Ray, only to have a clerk bring out more in the middle of your happy dance?
You aren't alone. The spend-a-thon that begins in earnest each year in the waning moments of Thanksgiving is nothing if not natural.
Natural, because those instincts that make bargain shopping so dangerous — to be competitive, to join the crowd, to provide for your family, to enjoy acquiring stuff — are just part of your DNA. And some very smart people have been capitalizing on that fact and shifting those instincts into overdrive.
Yep, there's a science behind Black Friday, Cyber Monday and any other variety of sale-fueled shopping frenzy.
Risk and reward
So, what is the science of shopping? It's all about risk and reward says Frank Jurden, a lecturer in marketing at the Kansas University School of Business.
"The idea of the sale exploits the idea of a limited opportunity," Jurden says. "The basic psychology behind a sale is that this is an opportunity that's going to come, 'once in a lifetime' or 'once every 12 months' and that's the primary motivation."
In particular, there's a school of thought in the annals of consumer behavior called "prospect theory" that says that consumers want to avoid losses even more so than they value the gain they'll get. This plays in heavily to the "buy now" frenzy of Black Friday and Cyber Monday.
"I think what happens on Black Friday is consumers perceive that things are on sale, for example, and that there's a very limited opportunity and if they don't act, if they don't take advantage of the opportunity, they'll lose something, they'll lose out," Jurden says. "This notion that they are risk adverse, that they want to avoid losses, I think is very motivating, even more motivating in fact than whatever gain might come from whatever they acquire."
Also being factored in is the collective feeling of being part of an event, something that we don't get out of every random purchase, says Dennis Rosen, associate professor of business at KU. Black Friday and Cyber Monday have been built up almost to be a rite of passage, even if they come once a year.
"There's a lot of press, a lot of advertising that builds excitement and anticipation. Over the last 10 years this has kind of become a tradition, the start of the holiday season. And so everyone looks forward to it and gets excited about it. And it's fun," Rosen says. "You can be part of a big event — you wait for the doors to open, scurry around with the crowd, that kind of thing."
And because we have it built up in our minds, we also have a tendency to do things we wouldn't normally do — spend gobs of money or be rude or even physical with other shoppers in order to get what we want. Again, this is natural, even if later it's shame-inducing.
"People should be somewhat, for lack of a better word, understanding in terms of the pressure that's put on our population regarding the holidays," says Loraine Herndon, a senior therapist with Bert Nash Community Mental Health Center, 200 Maine. "And that we have some of the most sophisticated, well-researched marketing and advertising experts who are really pumping this up for the lack of a better word. We should not underestimate the power of that. Some really good minds have helped design it."
How to keep your instincts in check
Herndon says the stress of the current economic recession plus the urge to make the holidays feel special can add tremendous amounts of tension to an already stressed-to-the-max population.
That said, she and Rosen have some tips for avoiding a big spending spree, making up for damage you've already done and how to make sure next year isn't so amazingly painful on your pocketbook.
Give yourself a window. Already done some damage? That's OK. Just take a step back and look at your purchases. After it's been a day or two, check for buyer's remorse. If you have even an inkling of regret, take it back. There's no need to be prideful and keep something you wish you hadn't purchased. Herndon recommends 24 to 48 hours at least before deciding if you want to keep your purchase.
Do your research. Make sure you're aware of what a truly good price is for the items you most want to buy. Rosen points out that the sale price you see in person might not but the best price out there for that item.
Avoid the herd all together. One great thing about Cyber Monday? You're shopping alone. Herndon says it's possible you might be more thoughtful if you're not shopping with the masses. Though, Rosen warns to make sure you know the return policy if buying online — it may not be as easy as with store-bought merchandise.
Keep those receipts! Herndon suggests keeping track of everything you buy for the holidays — those purchases can give you a baseline for next year. Because, if anything, we as shoppers are forgetful. What may seem like a huge financial strain right now might not feel so painful 10 months down the road. That is, until you do it again.
"Make a plan this year on how you can prevent from being in the same place again next year," she says.
More like this story on Lawrence.com