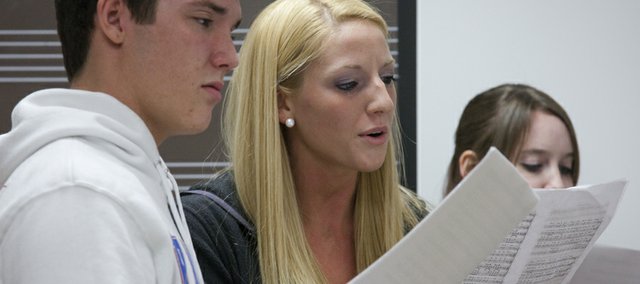 Wednesday, November 24, 2010
Audio clip
Genuine Imitation: "Your Love Is Dynamite"
Audio clip
Genuine Imitation: "Jumper"
Yes, Gleeks, there is a Rachel Berry.
And a Kurt Hummel, Finn Hudson and Mercedes Jones in real life.
And they go to Kansas University.
OK, that's not entirely true. But if you peek into a certain choir room in Murphy Hall, you might think you've walked onto the set of Fox's hit TV show "Glee."
Or at least a pretty good replica: Genuine Imitation.
Genuine Imitation is KU's a cappella group — a real, live, 16-person collection of music lovers putting together renditions of everything from Ke$ha to Weezer to Peter Gabriel in a fashion not so far from the fictional New Directions on the popular Fox TV show.
Formed in 2003, the group does everything from luncheons to formal concerts — with the next one at 8 p.m. Wednesday in Woodruff Auditorium at the Kansas Union.
And, just like the show, Genuine Imitation is a bit of a random bunch drawn together by a love of singing. The group includes students of all grade levels and majors, from the expected voice performance students to ones studying accounting and ecology.
The non-music majors say the club allows them time to enjoy an alternate passion while the music majors say the club allows them to stretch their range and have a change of pace from the opera-heavy emphasis of their studies.
"I have known a couple of people before me who have gone off to study voice and then you see them again later and they just have one style. Like, they can only sing in that very classical voice style," says senior Sara Blakesley, a voice performance major who doubles as the group's music director. "Sometimes you can lose just the ability to sing pop music."
Member Alex Goering already had an outlet to more contemporary music in his alternative blues band, Past Perfect, but says that even then, Genuine Imitation allows him a different level of creativity. He says you can have fun and be creative with songs everyone already knows without being bound to the constraints of the original.
"When we play covers in my band, it's frustrating because people expect you to sound just like the group that you're covering," Goering says. "They don't expect that with a cappella groups."
As far as expectations, there's at least two that Genuine Imitation has when it comes to "Glee": garnering interest thanks to the show, and having to compete with the musical juggernaut for song selection.
"It gets really tricky with 'Glee' pumping out those songs every week," says Stephanie Palmer, a Lenexa junior. "Because we're like, 'Oh, let's do "Teenage Dream'" and then that night 'Teenage Dream' airs on 'Glee' and we're like, 'Oh, maybe not.' So, it's hard to find original music that's not being done by 'Glee.'"
One way around that, besides keeping the DVR set to the show, is to become adept at finding great a cappella songs in plain sight. To do that, Genuine Imitation has put its stamp on unexpected tracks like "Fireflies" by Owl City, "Amber" from 311, "Haunt You Every Day" from Weezer and "Only Exception" from Paramore. They've also created a few mashups — a blend of songs into one — combining artists including Michael Jackson and Beyonce ("Thriller" and "Single Ladies") and Ke$ha and Taio Cruz ("Your Love is My Drug" and "Dynamite").
Member Ryan King says he hopes the group's variety and talent for mashups can get it a wide audience, from fans of "Glee" to serious music buffs and everyone else along the spectrum.
"Not everybody's going to want to hear Lady Gaga. Not everybody is going to want to hear Peter Gabriel," he says, mentioning some of their current covers. "But, I think if you can manage to fit Miley Cyrus and the Black Eyed Peas and everybody else all into one, I think you'll have something for everybody."