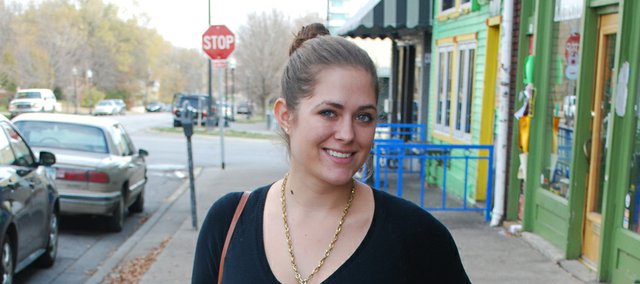 Wednesday, November 24, 2010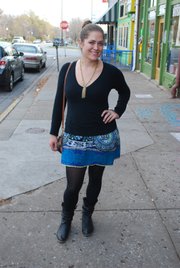 Name: Katy Clagett
Age: 22
Sign: Scorpio
Occupation: Barista/student
Hometown: Colorado Springs, CO
Time in Lawrence: 3 years
What were you doing when you were scouted? Drinking coffee at Henry's.
How would you describe your style? I try to dress classically. I throw in different accessories to make my wardrobe more interesting. I also wear lots of dresses.
What are your current favorite fashion trends? I like singular accessories — one statement piece accompanied by simple jewelry. And, I love black. Everyone looks good in black.
What are your least favorite fashion trends? Impractical, inappropriate clothing for the weather. For example, I don't like short shorts, short dresses and high-heels, or sandals worn with flip-flops in the winter.
What would you like to see more of in Lawrence? A downtown grocery store, ala the Casbah.
What would you like to see less of in Lawrence? Prejudice against particular stores. I think certain shops get a reputation for being a 'sorority store' or a 'hipster store' — really, all of the stores in Lawrence have something to offer.
Do you have any fashion influences? Audrey Tautau. She's a classic example of beautiful, French style.
Do you have any piercings or tattoos? I have pierced ears and one small tattoo.
People say I look like… Brooke Shields and Debra Messing.
Tell us a secret: I use men's deodorant — Old Spice!
More like this story on Lawrence.com