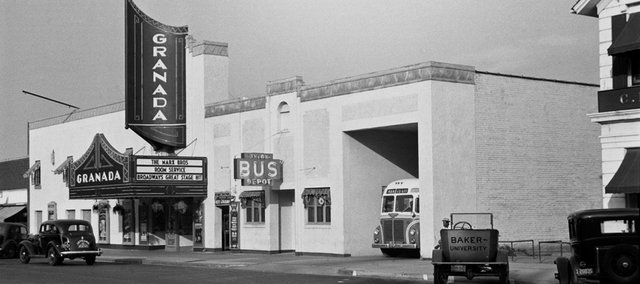 Originally published November 28, 2010 at midnight, updated November 28, 2010 at midnight
Photo Gallery
Farm Security Administration photographs from Kansas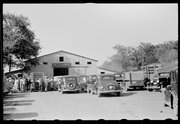 In the Farm Security Administration's collection of 164,000 images, taken between 1937 and 1945, there are close to 1,000 images from Kansas. These images document the rural life and small town scenes in the state following the Dust Bowl and the Great Depression.
In October of 1938, photographer John Vachon made a stop in Lawrence and took a picture of the exterior of the Granada Theater, 1020 Mass. Visible in the frame is a Jayhawk Taxi, a Baker University automobile and the Union Bus depot. The Marx Brothers' movie "Room Service" is on the theater marquee, and the coffee shop next door is advertising 35 cent dinners. We don't know why Vachon documented this particular scene, but the caption reads "Southern California architecture in Lawrence, Kansas." Whatever his motivation, this image appears to be the only photograph from Lawrence among 164,000 in the Farm Security Administration collection of photographs in the Library of Congress.
The FSA was created in the Department of Agriculture in 1937. It was one of President Franklin Roosevelt's New Deal programs designed to assist poor farmers during the Dust Bowl and the Great Depression. Great Bend native Roy Stryker headed a photography section of the FSA, sending photographers across the country to gather pictorial evidence of the country's condition. In the collection are some of the most famous documentary photographs ever produced. Among the young and talented group, in addition to Vachon were Walker Evans, Dorothea Lange and Fort Scott native Gordon Parks.
Vachon spent two weeks in Kansas before heading north to Nebraska. He photographed a farm auction in Oskaloosa and documented people on the town square there. He fell in love with the "ecstatically magnificent Great Plains." In 1973 Vachon wrote about his 1938 trip. "I got into dozens of farmhouses (What a wonderful job I had: How else could I have ever been in a farmer's house in Red Willow County?), and I photographed the whole family sitting down to dinner," Vachon said. "And there were the towns! I was 24 years old, and this was America before the Holiday Inn."
In Lawrence, Vachon may have attended the Marx Brothers' movie or dined at the cafe next door, but there is record of only one image that documented his time here. But in the FSA collection, approximately 1,000 images are from Kansas. And because all the FSA photographers were working for the U.S. government, these images are accessible to everyone. For access to the entire collection go to http://memory.loc.gov/ammem/fsahtml/fahome.html.
More like this story on Lawrence.com