Originally published November 29, 2010 at midnight, updated November 29, 2010 at 9:28 a.m.
Stacks of beer and wine on special surround the checkout counter as usual at the Cork & Barrel liquor store, 901 Miss. But something new is tempting the impulse-buyer: chocolate flavored, alcohol-infused whipped cream.
The combo dessert/drink in a can, which comes in chocolate, vanilla, caramel, raspberry and cherry flavors, is catching the eye of local shoppers.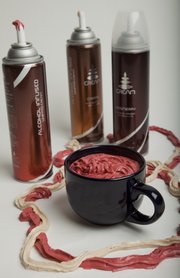 "Whipahol" — as it has been branded by the makers of Whipped Lighting — has an appearance and consistency similar to regular whip cream, though the color varies according to the flavor. Its alcohol content is similar to many liqueurs and frequently tops coffee, drinks and shots.
Rolf Peterson of Lawrence first sampled some Whipahol when some friends brought it into a bar.
"It tastes like alcohol — milk and alcohol," he says. "Some friends of mine showed up, and they asked me to try it."
He says he liked the mix.
Bartenders and chefs have been creating their own mixtures of alcohol and whipped cream for decades, but it wasn't until recently that the product appeared on store shelves. The CEO of Maple Groves Products, makers of Whipped Lighting, said in a blog post on www.bevlaw.com that their unique contribution was in marketing the product. "Anyone who believes they invented alcohol infused whipped cream is either a fool or a liar. We just happen to be the first to put it in a can and sell it commercially," he wrote.
The product began popping up in Lawrence toward the end of the summer, say employees at local liquor stores. And the alcoholic cream has been selling well in a short time on the market, said Brendan Dawdle, manager of Cork & Barrel.
"We just heard through the grapevine that it was selling really well," he says. "So we got it."
The chocolate variety has especially been a hit, says store employee Jon Gripka. The product is particularly popular with those in their early 20s.
"It seems like the older crowd is kind of intrigued by it, but you never actually see them buy it," he says.
Some local experts caution about the use of such products. The seemingly innocent package could cause the same problems of regular alcohol use.
Alcoholic whipped cream seems to straddle the division between food and drink, but it is important to remember that it has an alcoholic content similar to many liqueurs. The alcohol content of Whipped Lighting is such that it is considered an alcoholic beverage and is not regulated by the FDA or carried in grocery stores. Depending on the brand, an alcohol-infused whipped cream might have a proof of 36.5 or slightly less.
John Drees, registered nurse and community education specialist for Lawrence Memorial Hospital, says any alcohol ingestion is a potential concern if it leads to excess. That the alcohol is consumed together with whipped cream does not make it more hazardous, but neither does it make it any less.
"The consumption of alcohol in great quantities is a problem in the community regardless of the means of conveyance," Drees says. "Strictly in health terms, we are encouraging people to moderate."