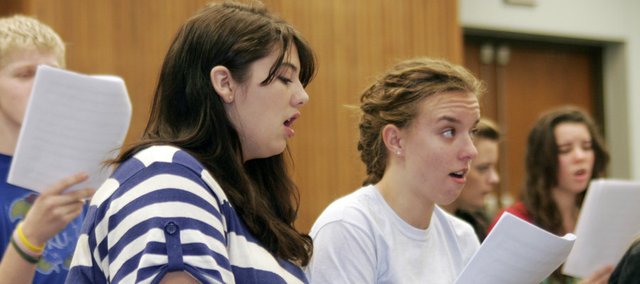 Monday, November 29, 2010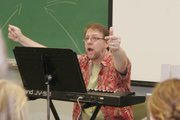 The singers are gathering for rehearsal, but the topic of conversation isn't today's music.
"Did you see this week's episode? It was the 'Never Been Kissed' episode. The boys choir sang …"
They're talking about "Glee," the FOX TV show that features a fictional show choir that has performed everything from show tunes to the songs of KISS.
The program is one of the guiding forces behind LAC Voices, a new choral pop group established this fall through the Lawrence Arts Center.
Richard Walker is the group's vocal director, with Molly Gordon in charge of choreography, staging and costumes.
Walker, a former Bishop Seabury Academy choir director, says LAC Voices serves as a way for young singers to continue with a community-based group after they become too old to participate in Lawrence Children's Choir.
"One of the things I noticed was when the kids got to ninth grade, that music community ended for some of the best, enthusiastic voices in town," Walker says. "I could see for those stopping or about to stop, there was some grieving."
The group, which has its inaugural performance at 7:30 p.m. Saturday at the Lawrence Arts Center, 940 N.H., has 15 singers — 11 girls, four boys — ages 14 to 18.
Saturday's repertoire includes choral versions of hits from such diverse acts as the Electric Light Orchestra, Regina Spektor, Queen, Wild Cherry and the Beatles.
"I take tips from 'Glee,' seeing what they're doing," Walker says. "That's where the popularity of this is coming from. (The singers') tastes are very catholic. It can be old or new, but as long as it's fun, people like it."
Indeed, the singers say hearing tight-harmony versions of pop songs on "Glee" has them excited to try the musical style out on their own.
"I'm a big fan of choral music," says Katie Gaches, a ninth-grader at Southwest Junior High School. "I love 'Glee.' I'm a Gleek."
Lily Lancaster, a junior at Free State High School, says the music sung at LAC Voices complements her school's choral experience.
"This is definitely a lot different," she says. "It's more about letting go and having fun with this, because you kind of branch out."
That was the goal for Walker, who admits with once-a-week rehearsals, the focus of LAC Voices is mostly on preparing for the performance.
"There's no point in duplicating what they're doing in the high schools," he says. "We have some of the best high school singing in the state."
Hilary Morton, choir director at Free State, says singing in groups such as LAC Voices increases her students' vocal confidence.
"LAC Voices is a much more intimate ensemble than most at the high schools, so it also enables students the opportunity to sing with their friends from the other high school, as well as with musicians that are not necessarily in their current high school vocal ensemble," she says. "It's a great opportunity for vocal advancement and bonding."
Morton says "Glee" hasn't spurred an increase in the number of singers at FSHS, but it has broadened students' musical tastes and made some more excited for choir.
"I know that kids get together and watch the show and have 'Glee' parties, which is awesome," Morton says. "I think the arrangements of songs from the '70s have introduced those standards to the new generation watching the show, which is great, but how are you going to out-sing Freddie Mercury? Overall, I think the show has done great things for audiences, and makes kids excited to sing."
Walker says he hopes LAC Voices can continue to spark that interest into the future.
"I think I managed to find something that they like," he says of the songs. "The scariest thing was having a 44-year-old's tastes and picking out music. But we find things to groove on."