Monday, November 29, 2010
Filmmaker, photographer, yoga teacher, martial arts enthusiast, seasoned traveler and Kansas University student Louis Anajjar, 30, spent over half his life searching for a place to feel "at home."
After traveling around the United States, Europe and Canada, he's discovered "home" is within himself as well as in Kansas.
"I'm finally more in touch with myself and who I really am inside," he says. "Lawrence is the perfect place for me right now."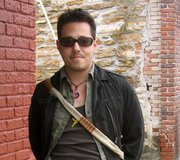 Born in Washington, D.C., Anajjar relished the freedom he experienced growing up there.
"I loved catching buses, hanging out downtown with friends, exploring the city, going to movies and playing soccer," he says. "I also liked alone time to reflect, dream and meditate. I've had a spiritual awareness from a young age."
At 8, Anajjar discovered martial arts at the YMCA. It provided him with the perfect balance between activity and contemplation.
"Martial arts helped me connect more deeply with my body and tap into a sense of strength and peace," he says. "I enjoyed exploring different body forms and experimenting with choreography movements."
He won a national competition in his age-group at 9 and turned down an offer to study at Tai Yim Kung-fu school because his parents couldn't afford the fees. His parents divorced shortly afterward, and he moved to Overland Park with his mother and four brothers.
"It was a really hard time for me," Anajjar says. "I felt restless and displaced. Thankfully, I poured my energy into school and did lots of photography."
He graduated from Shawnee Mission North High School in 1998, attended KU but couldn't settle. He returned to the East Coast, completed a photography course at a D.C. community college, worked with photographers Tico Herrera and Tom Wolfe, and set off to explore Europe.
He spent three months at Plum Village Temple, Bordeaux, France, under Thich Nhat Hanh's guidance.
"It was like an extended mindfulness retreat," he says.
"I learned to live life at a much deeper level. I felt more connected to a sacred presence and my spiritual center."

He then studied with Sri Sri Ravi Shankar at the Art of Living Foundation, Quebec, became a certified Ashtanga yoga teacher, and returned to KU in 2006 to continue studying fine arts with a focus on performance and video. A class assignment to produce a video about personal identity led him to produce a series of short films, "Futbol Anthropology" (available at Liberty Hall).
He's now working on a character-driven feature film screenplay titled "Whiskey Coke" about a San Francisco ballet dancer who deals with being an outsider.
During a recent New York City vacation, Anajjar had an epiphany about himself and Kansas.
"This is the absolute perfect place for me now. Kansas is beautiful, open, its pace is slow, and there's a gentleness in the landscape and place that really fosters self-discovery and growth," he says. "I know that sounds really artsy or overly sensitive, but Lawrence is truly a place where I feel more at home and more in touch with myself and my dreams."