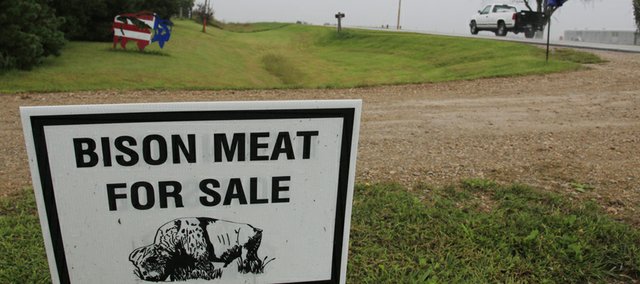 Monday, November 29, 2010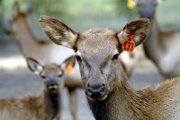 Game meats
What they are: Game meats include venison (deer), elk, wild boar, buffalo, ostrich, emu, quail, squab, pheasant and even more exotic animals such as alligator, rattlesnake, black bear, frog legs and turtle meat.
Season: Most can be found year-round, though season depends on the animal.
Nutrition: Per 100 grams, raw elk has 111 calories, 23 grams of protein and one gram of fat (though that gram is saturated) according to www.nutritiondata.com. For 100 grams of ground raw grass-fed buffalo meat, expect about 146 calories, 7 grams of fat and 20 grams of protein. Ground, raw wild boar meat provides 122 calories, 3 grams of fat and 22 grams of protein per 100 grams. As for quail, 100 grams provides 134 calories, 5 grams of fat and 22 grams of protein. For more information on specific game meats, go to www.nutritiondata.com.
How to store: Store like other meats — frozen or refrigerated until use.
— Sarah Henning
What do I do with ...?
Got a food the intimidates you? We'd love to hear what foods you'd like to know more about. E-mail Sarah Henning at shenning@ljworld.com.
Next food up? Soft cheeses.
Game meat is a term that can be painted with a broad brush these days. Anything traditionally hunted qualifies — from elk to deer to squab to bison — even if it is raised on a farm.
A farm like Rocky Hills Elk Ranch in Winchester.
Charles Edmonds says he got into the elk business in 1999 after burning out on cattle, which he'd raised his whole life.
One big draw to elk? Like all other game meats, elk, bison and the like are a bit more heart healthy than beef, making it attractive to meat lovers who are watching their health.
"Generally for the health reasons, because it's lower in fat and cholesterol (than) any other red meat," Edmonds says. "What I describe it as is very mild-flavored beef. And, like I say, with less fat and cholesterol. A lot of people who are having health problems with high blood pressure and things, their doctors tell them to eat lower fat foods, and so they're looking for buffalo or elk."
Because of the lean status, cooking can be a bit tricky says David Crum, general manager of Arrowhead Specialty Meats in North Kansas City, Mo.
"Game meats in general are lean, very lean, and for that reason you have to be very careful not to overcook them or they're going to end up being really dry and kind of liver-y tasting," Crumb says. "Really, anything past medium, you're not going to be too happy with any steak that's a game meat."
Crum, a former chef at Westport's Bluestem and Starkers near the Country Club Plaza in Kansas City, suggests using cooking methods that add moisture to the meat.
"You're going to need to use wet cooking methods — braising, stewing — you just need to add some moisture to it, again because there's so little fat in it," Crum says. "Brining works really well on all cuts of game meat, whether or not it's a braising cut or a steak-type cut that you're going to grill or sear and roast to mid-rare."
Crum suggests a basic game meat brine of a gallon of water, a cup and a half of salt and a cup of sweetener such as sugar, maple sugar or honey. Immerse the cut anywhere from four to 24 hours depending on the size. He recommends four hours for six to eight ounces of meat, such as elk loin medallions, and 24 hours for a larger cut, like an entire boar shoulder.
Recipes
Salt and Sugar Baked Pheasant
1/2 lemon
1 whole pheasant
1 tablespoon green olive oil
1/4 cup salt
1/4 cup sugar
1 teaspoon nutmeg
1 sprig fresh rosemary or 1 teaspoon dried
Rub the lemon half over the entire pheasant, inside and out, and sprinkle with olive oil.
Combine the salt, sugar and nutmeg and pour in an even layer on a plate. Roll the pheasant in the salt/sugar mixture, pressing down as you roll to make a crust over the entire bird. Put the rosemary in the pheasant's cavity, and let stand uncovered on a plate in the refrigerator about two hours.
Preheat oven to 400 degrees, roast for 45 minutes or until the pheasant is caramel brown and the juices run clear, being careful not to overcook. Roast until an instant-reading thermometer inserted in thigh area registers 180 degrees Fahrenheit. You can also place the pheasant in a roasting bag, it will stay juicy this way. Serves four.
— Recipe from gamemeat.blogspot.com.
Quail and Mushrooms
6 ounces chopped bacon
1/4 cup flour
1 1/2 cup chopped onions
3 cups assorted exotic mushrooms, such as shiitakes, oysters or hedgehogs
1 tablespoon chopped garlic
1/2 cup dry sherry
1 cup peeled, seeded and chopped tomatoes
2 cups chicken stock
8 quail, breastbone removed and split down the back (4 ounces each)
Salt
Cayenne pepper
Black pepper
1 tablespoon fresh lemon juice
1 tablespoon chopped parsley
In a large skillet, over medium heat, fry the bacon until crispy, about 3 to 4 minutes. Using a slotted spoon, remove the bacon and drain on a paper-lined plate. Set the bacon aside. Stir the fat into the flour and make a medium brown roux, the color of peanut butter, by stirring constantly for eight to 10 minutes. Stir in the onions and sauté for three minutes, or until the vegetables start to wilt. Add the mushrooms and continue to cook for two minutes. Season with salt, pepper and cayenne. Add the garlic and sherry and cook for two minutes. Stir in the tomatoes and chicken stock and bring the liquid to a boil.
Season the quail with salt, pepper and cayenne. Add the quail to the mixture and simmer for 30 minutes, basting the quail every 10 minutes. Stir in the lemon juice and parsley. Garnish with the crispy bacon. Serves four.
— Recipe from gamemeat.blogspot.com.
Garlic Studded Loin of Venison with a Berry Reduction
2 pound venison loin, trimmed
10 garlic cloves, peeled
3 tablespoons olive oil
Salt
Coarsely ground black pepper
4 cups vegetable oil
1 sweet potato, peeled and cut into curls
1 tablespoon chopped fresh parsley leaves
2 tablespoon chopped shallots
1 teaspoon chopped garlic
2 cups assorted berries, washed and stemmed, sliced if needed
1 tablespoon honey
2 tablespoons butter
Make 10 slits in the loin and stuff each slit with one garlic clove. Rub the entire loin with one tablespoon of the olive oil. Season with salt and pepper. Heat a large skillet over medium heat. Add the venison and sear, turning with tongs, for six minutes on each side for medium rare. Remove from the pan and let rest for 10 minutes before slicing. Heat the vegetable oil in a medium pot over high heat to 350 degrees. Add the sweet potato curls and fry until golden and crisp, about 2 minutes. Drain on paper towels. Lightly season with salt and sprinkle with the chopped parsley. Set aside. In a large skillet, heat the remaining tablespoon of oil over medium-high heat. Add the shallots, garlic and berries, and cook, stirring for two minutes. Add the reduction and bring to a boil. Reduce the heat to medium and simmer for eight minutes. Remove from the heat. Using a hand-held blender, puree until smooth. Strain the sauce through a fine-mesh strainer and discard the seeds. Place the sauce in a clean pan. Add the honey and butter and whisk until smooth.
To serve, cut the venison in 1/2 inch thick slices and divide among six dinner plates. Top with the sauce and garnish with the fried sweet potato curls. Serves six.
— Recipe from gamemeat.blogspot.com.
Elk Chop in Blackberry Port Sauce
1 tablespoon olive oil
2 elk rib chops seasoned with fresh ground pepper
1 ounce shallots, julienned
1/2 pint fresh blackberries, not frozen
8 ounces ruby port wine
2 ounces brown sauce
1 ounce brown sugar
In a very hot pan add the oil then the chops, brown evenly on one side, turn over and place in a preheated oven (500 degrees) approximately six to eight minutes or until medium rare. Remove from the oven, place on high heat, remove the chops, add the shallots and the berries, sauté slightly add the port and let reduce by half, then add the sauce and the sugar season with a little salt if necessary, sauce should be a little thin, serve sauce on the side. Serves two.
— Recipe from gamemeat.blogspot.com.
Red Wine Marinade for Ostrich
2 cups red wine, Cabernet Sauvignon is suggested
3 cups olive oil
3 tablespoons dried basil
1/2 tablespoon dried tarragon
1 tablespoon freshly chopped sage
1 tablespoon quince paste
1 tablespoon ground wattleseed
1/2 teaspoon ground black pepper
1 1/2 teaspoons salt
In a large bowl, combine all the ingredients. Place your choice of meat in the marinade and let marinate for 30 to 60 minutes, depending on the thickness of the meat. Remove meat from marinade and cook using desired cooking method. Yield five cups.
Chef's note: Emu, ostrich, or beef is suggested to use with this marinade. Also, wattleseed may be purchased online.
— Recipe from gamemeat.blogspot.com.
Wild Boar Tenderloin and Shiitake Stroganoff
Yields 4 to 6 servings
3 tablespoons butter
1 large onion, julienned
4 cups sliced shiitake mushrooms
Salt and pepper to taste
2 tablespoons minced garlic
2 tablespoons wild boar tenderloin, cut into 2-by-1/2-inch pieces
3 cups veal stock
1/4 cup finely chopped parsley
1 cup sour cream
In a sauté pan, melt the butter, sauté the onions for two minutes. Add the sliced mushrooms and continue sautéing for two to three minutes, or until the mushrooms start to wilt. Season with salt and pepper. Add the garlic and wild boar and continue sautéing for two minutes. Add the veal stock and bring up to a boil. Reduce to a simmer and cook for three to four minutes. Stir in the sour cream and parsley. Continue to cook for three minutes. Season with salt and pepper. Serves four to six.
— Recipe from gamemeat.blogspot.com.
Wood Grilled Buffalo Tenderloin with Wild Mushrooms and Port Wine Sauce
2 cups diced yellow onions
1 cup diced carrots
1 cup diced celery
2 tablespoons canola oil
6 cups ruby port wine
2 cups red wine
1 1/2 quarts veal stock or brown chicken stock
4 sprigs thyme
3 sprigs Italian parsley
Salt and pepper
24 small shallots
2 tablespoons olive oil
1 tablespoon thyme leaves
1 tablespoon chopped parsley leaves
2 3/4 pounds Yukon gold potatoes, sliced 2-inches thick
3/4 pound unsalted butter, chopped
1 cup half-and-half
1 ounce canola oil
1/2 pound mixed wild mushrooms, of your choice, sliced 1/2-inch thick
1 teaspoon minced garlic
1/2 cup crumbled blue cheese
4 (5-ounce) buffalo fillets
Place the onion, carrot, and celery with the canola oil in a medium saucepan and sauté over high heat for 10 minutes or until golden brown and caramelized. Deglaze the pan with the port wine and red wine and cook until most of the wine has been absorbed. Add veal stock and simmer for an hour. Strain, return to the saucepan and add thyme and parsley, simmer for five minutes. Strain the thyme and parsley, return back to the pot and let simmer for about 30 minutes or until reduced to 1 1/2 cups. Season with salt and pepper to taste, strain through a fine-mesh sieve. Keep warm.
Preheat oven to 350 degrees. Place shallots in an oven-proof pan with the olive oil and cover with aluminum foil. Roast for one hour or until tender. Toss with thyme and parsley and season with salt and pepper. Keep warm.
Place the potatoes in a large saucepan and add enough cold water to cover. Salt the water and bring to a rolling boil over high heat. Reduce the heat and simmer for about 15 minutes, or until the potatoes are tender when pierced with a knife. Drain and place on a cookie sheet. Place in the oven for three to five minutes, until excess moisture is evaporated.
Rice the potatoes in a food mill or a ricer into a bowl. Add butter and mash with a potato masher.
In a small saucepan, bring 1/2 cup half-and-half to a boil. Add to the potatoes, stirring gently until the desired consistency. Do not over mix the potatoes. Season with salt and pepper. Cover and set aside.
Preheat a large sauté pan on medium height heat. Add oil and sauté mushroom for two to three minutes. Stirring often. Once mushrooms become tender add garlic. Sauté for one minute. Set aside for platting. Mushrooms maybe sautéed a day in advance.
Place an additional 1/2 cup of half-and-half in a small saucepan and bring to a boil. Add blue cheese and blend with a hand held blender prior to serving.
To assemble preheat the grill. Season buffalo with salt and pepper and place on the grill.
Grill the steaks for two to three minutes on both sides for medium rare, or until preferred doneness. Remove steaks from grill and let rest. On a dinner plate place a small circle of mushrooms in the center of the plate. Place a quenelle (oval) of mashed potatoes in the center of the mushrooms, on top of the potatoes place the buffalo. Using a spoon, pour one ounce of port wine sauce around the mushrooms and a little on the buffalo. Blend the blue cheese cream until nice and frothy, and then spoon over buffalo. Serves four.
— Recipe from gamemeat.blogspot.com.