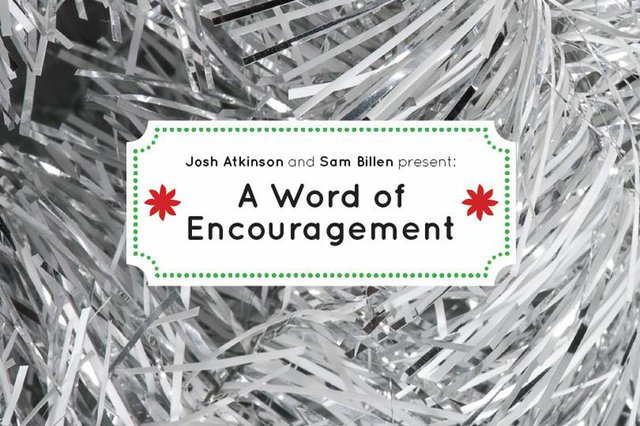 Originally published November 30, 2010 at 1:53 a.m., updated November 30, 2010 at 1:53 a.m.
The holiday season is often full of unlikely Santas. There are the secret gift givers at the office, the good samaritans who donate food or toys to the needy, and then there's the boozey-breathed old man at the bar who's just a little overzealous in asking people to sit on his lap. But strolling down Massachusetts Street on a blustery day this year, you could be approached by Lawrence musicians Sam Billen and Josh Atkinson and given the two's brand new Christmas album, A Word of Encouragement.
The newest release from two musicians who have been putting out music in the area for more than a decade (Billen with The Billions and more recently under his own name, Atkinson with Kansas City-based Laredo and then with Kelpie) will be completely free of charge. The two financed the project by raising all the funds upfront, and will be handing out hundreds of CDs to friends, family and random Lawrencians, as well as sending copies to friends abroad and putting the album up for free download on Billen's website.
A Word of Encouragement has been in the works — in theory, at least — since the first day the musicians met. Though the two veterans of the local music scene had seen each other around town playing gigs for years, the pair first officially met because of this very website. Two years ago they were separately asked to guest on the same podcast because they had each recorded a solo Christmas album. That meeting sparked a creative partnership that is now producing fruit, and will likely continue to do so for years to come.
"We have the same outlook towards Christmas. It's always been a special time for both of us," Billen says. "There's the loneliness of the weather, but there's so much joy that you find with your relationships with your friends and family."
That appreciation has kept both musicians busy for the past few years. This will be the fourth Christmas album that each has been a part of. Last year, the two each contributed a pair of songs to The More the Merrier Christmas, a compilation Billen put together that included songs from several area songwriters, and each had put out solo Christmas albums prior to that.
Both musicians cite the contagious cheer of the season as creative inspiration for make music. And for Atkinson, writing new Christmas songs could also simply be a way to put some holiday music that he actually enjoys out into the world.
"There are handfuls of Christmas songs that are absolutely beautiful, and many, many more handfuls of songs that I just don't like," he says.
Billen says A Word of Encouragement will have 13 songs, some of which the musicians recorded separately and some they recorded together. The album will be a mix of covers and original compositions.
Audio clip
Smile Smile Smile
"His are more like lullabies and mine are a little more upbeat," Billen says. "Everything we've done so far, we're really happy with."
Billen cites Japanese musician Shugo Tokumaru (who he describes as "kind of a Japanese Sufjan Stevens") as a major influence for his contributions to the album. This is evident in the spacious chamber pop melodies of "Smile Smile Smile," which you can stream above. Billen says that just because the album is free, listeners shouldn't expect any lack in quality. A Word of Encouragement was mixed and partially recorded in a professional recording studio, and the musicians made an effort to create a diverse group of recordings that resonate with the listener.
Atkinson and Billen used the fundraising website kickstarter.com to raise money for the project. Billen took a similar approach when recording his solo Christmas album two years ago, though he says things went a lot smoother with Atkinson added in. The two had little trouble raising the $1,200 they were seeking — enough to record and press 1,000 CDs — reaching their goal 11 days before the deadline.
The artists set a number of pledge points, each with its own set of rewards. Donating $1 got you a pre-release digital download of the album. Giving $5 would have gotten you a digital download and one copy of the album. The generous souls who pledged $100 or more received 20 copies of the album, a personalized thank you card, a Christmas photo of the musicians (with the option of having the donor Photoshopped into it), and a coffee mug decorated with a picture of the musicians. And though nobody pledged near that much, a $1,200 donation could have gotten someone a home Christmas concert by the musicians, among many other things.
But besides the goodies they received, donors were able to contribute to a project that will give back and spread cheer to hundreds of people in the Lawrence community, something that's important to both musicians.
"I want people to enjoy it because I enjoy it," Atkinson says. "Why not share it?"
More like this story on Lawrence.com