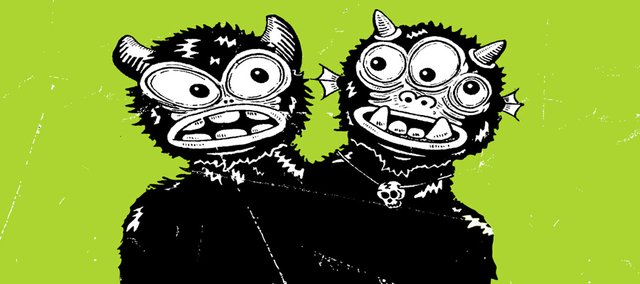 Past Event
Saturday, October 2, 2010, 4 p.m. to 12:30 p.m.
Liberty Hall Cinema, 644 Massachussets Street, Lawrence
All ages / Free
Lawrence — Arish "King" Khan - leader of saucy garage rockers King Khan and the Shrines - promises to be on his best behavior this weekend when his band invades Lawrence on Saturday. The last time they were slated to play here they didn't even make it to town; Khan was arrested before the tour made its way to Kansas. So this time around, he's promising to be good.
But he's not expecting good behavior out of the crowd.
"I think the whole city is probably going to go pretty ballistic," says Khan, whose band will join nearly 30 other rowdy acts around town this weekend for the Scion Garage Fest. "At a festival like this, there are so many great bands going on, usually people are overwhelmed by how many good things are happening. I hope people freak out."
Alongside King Khan, the Raveonettes, the Oblivians, the Gories, Thee Oh Sees and more will perform at Liberty Hall, the Granada, the Bottleneck and the Jackpot Music Hall, providing plenty of opportunities for musical mayhem. The event is free, though tickets are required with an RSVP at the festival's Web site. Depending on how packed each venue is, entrance isn't guaranteed, so you can expect to find fans running from venue to venue on Saturday.

The Berlin-based Khan is no stranger to ruckus around these parts. "I remember the last time I played Lawrence, we went to a house party afterwards and there were all these crazy masks and really crazy people all hanging out," he says, speaking of a show a couple of years ago. "My memory of Lawrence last time was pretty awesome. I hope we won't be shunned or driven out of the city."
With band members boasting names like "Dream Jeans" and "Bamboorella," don't expect anything ordinary out of King Khan and the Shrines. The group's crowded line-up has a reputation of bringing a three-ring circus to the stage, including the occasional bared back-side and having once incited the audience to tear up dollar bills. They're planning on bringing that same energy, along with a bunch of new songs, to Lawrence this weekend.
"It's the same kind of soulful gospel eroticism, the same mayhem that we've been spreading for the past couple of years," says Khan, who hopes for plenty of extreme behavior, but no need to call the police this time.
FEW LOCAL FACES
In a town oozing with local music, you might expect to see more than just one local band, but Rooftop Vigilantes are Lawrence's sole musical contribution to Garage Fest.
"It's strange, but I don't think they realized we were a local band when they asked," says guitarist Zach Campbell.
The group is known for their lively shows, and they're expecting the same out of the rest of the day's lineup. "I look for a band being able to get the crowd involved," says Campbell. "There's a lot of music that's pretty precious these days, and they take themselves too seriously."
Still, the pressure of being Lawrence's lone representatives in a smorgasbord of national and international acts isn't what has Campbell concerned. He's more concerned for the crowd and their own welfare. "The hardest part about this whole thing is choosing what you want to see and sacrifice other things," says Campbell. "It's going to be pretty crazy. The fact that something this great is coming to Lawrence, it's not that often that something like this happens. Even if I wasn't playing I'd be all about it."
The Full Lineup
Liberty Hall (644 Massachusetts)
4:00 Rooftop Vigilantes
5:00 Gentleman Jesse and His Men
6:00 Times New Viking
7:15 Best Coast
8:30 The Ponys
9:45 The Greenhornes
11:00 The Raveonettes
The Granada (1020 Massachusetts)
4:40 Natural Child
5:30 Garotas Suecas
6:20 Cloud Nothings
7:30 Digital Leather
8:40 Hunx and His Punx
9:55 The Clean
11:30 The Oblivians
The Bottleneck (737 New Hampshire St.)
4:30 Bad Sports
5:20 Nodzzz
6:10 Gaye Blades
7:00 The Lamps
8:00 TYVEK
9:15 Thee Oh Sees
10:30 King Khan & The Shrines
Jackpot Music Hall (943 Massachusetts)
4:20 Sex Beet
5:10 White Wires
6:00 Teenanger
6:50 Cola Freaks
7:50 Human Eye
9:00 Happy Birthday
10:00 The Gories