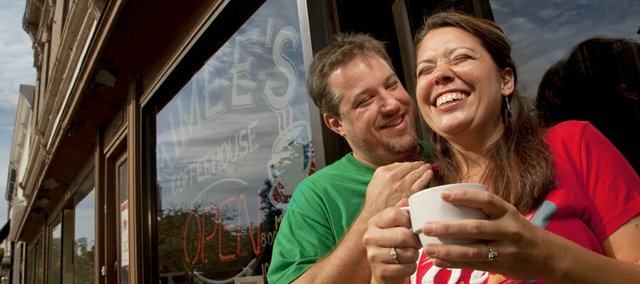 What's in a name?
A name may be one of the biggest legacies a parent bestows to a child.
And when that child grows up to be a business owner, his or her name may become even more of a focal point: anything from a large store-front sign to a community icon. Not to mention that hundreds and thousands of customers will know that person's name — even without knowing the actual person.
Lawrence has many businesses whose names are — or appear to be — someone's first name. Who are the people behind the names of these well-known businesses? Some of the answers are intriguing.
Henry T's
Henry is the first name of Henry T's namesake, but the "T" is his middle initial, not the first initial of his last name. And Henry never visits the restaurant for which he is named, but it could be said that he is there in spirit.
David Heinz opened Henry T's 19 years ago. He looked no farther than the land itself on West Sixth Street for the name's inspiration.
Henry T. Davis was the patriarch of the homesteading farm family on the property at the time of Quantrill's Raid in Lawrence. He is buried in the cemetery that is on the northwest corner of Henry T's lot, and his grave is marked by a large monument.
Heinz said that customers mistook him regularly for Henry. "If I had a nickel for every time someone asked me, 'Are you Henry?' We actually have had so many people over the years ask us, we put it on the front of the menu," he says.
After some research, Heinz found some old family journals from the Davises that detailed more about the family. The homesteaders on the adjacent property were killed in Quantrill's Raid, and the Davises watched the raid on downtown Lawrence from their hilltop location.
Aimee's Café and Coffee
There is nothing quite like having a business named after you as a surprise. Cary Strong opened a coffee house on Massachusetts Street in 2000, and he named it after the woman who would become his wife.
"I love the name, I love her, and I thought it would be great," Strong says. "She meant a lot to me, so I did it. We were dating; we weren't married yet."
Aimee Strong has been married to Cary Strong for nine years now, and she teaches preschool in Lawrence. She is not a regular employee at Aimee's Café. Cary Strong's mother works in the kitchen making soups and other items, so people often ask if she is Aimee.
"People are definitely interested in knowing if there is an Aimee," Cary Strong said. "There is a gal who works in the daytime; people ask if she's Aimee."
The unique spelling of Aimee's name brings a lot of attention from passers-by, Cary Strong said. "People will stop in because their daughter, friend or themselves spell it that way. I'll see people taking pictures of the sign," he says.
Sarah's Fabrics
The ornately decorated storefront windows of Sarah's Fabrics on Massachusetts Street present a frilly impression. Owner Sarah Fayman may put more creative thought into the window displays than she did into the name of her store.
"I named it Sarah's because I couldn't think of anything else," she says. "I didn't always want to have a store named after me, but it turned out to be a very good idea."
Fayman has owned Sarah's since 1973, and she said that customers had responded well to the personal aspect of the store's name.
"People seem to like to know that I am Sarah. In retail, you'll do almost anything to have an angle," she says.
Although Fayman's store is unique in many ways, it is not the only Sarah's Fabrics in the United States; there is also a Sarah's Fabrics in Massachusetts. "We've received some of their mail and a package one time," Fayman says. Perhaps a little confusion between the street name and the state name is to blame.
Marks Jewelers
The namesake of Marks Jewelers does not roam the streets of Lawrence on a regular basis. As a matter of fact, Mark has not been anywhere to be seen — ever. That is because Marks was the last name of the gentleman who started Marks Jewelers, back in 1880: Solomon Marks.
"I answer the phone as the owner, and people say, 'Hi, Mark,'" says Brad Parsons, owner of Marks since 1982. "At trade shows or out of state, people say, 'Who's Mark?' or 'How long has Mark been in business?'"
In truth, the history of Solomon Marks and his business is more etched in the stones of Lawrence than a contemporary namesake could be.
Parsons says that Solomon Marks was a German optometrist and jeweler who owned a store with his brother, called Marks Brothers Jewelers. But after a rift, Solomon Marks opened his own store, Sol. Marks Jewelers, in the very location of today's Marks Jewelers. The signage in the front window of the store on Massachusetts Street dates from 1880. Parsons has receipts and documentation dating back to the store's origins.
"We are the 14th oldest jeweler in the United States," Parsons says. "We pride ourselves on the history of the store and work hard to continue that."
Name recognition for the store has spanned generations, and Parsons and his staff benefit from the name's longevity.
"I waited on customers the other day, a grandpa, dad and son, who have all bought engagement rings here," Parsons says. "The grandpa remembered standing at the counter, leaning on the cases to buy the ring."
Quinton's
A favorite college student hangout and eatery on Massachusetts Street, Quinton's name is the result of a brainstorming session between the owner and friends in 1991, during the owner's last semester of college.
"I had a floor plan and a menu but no name. I was out with friends trying to come up with a name for the business," said Quinton's owner Steve Gaudreau. "One of the individuals out with me that night had the last name Quinton. I figured since it started with a 'Q,' a less than usual name, I asked if I could use his last name. He agreed and that's where the name came from."
Gaudreau and Quinton's namesake were partners for a couple of years, until Gaudreau bought out his partner's one-third stake in the business. Did he consider changing the name when Mr. Quinton sold out?
"No, it didn't matter that he wasn't there," Gaudreau says.
Gaudreau has since sold the naming rights and concept of Quinton's to businesses in Topeka, Columbia, Mo., and Iowa City. Quinton's receives phone calls mistaking the business' name for the current owner's name.
"People call and ask for Mr. Quinton. Then we know which calls are the sales calls," Gaudreau joked.
Gaudreau, also the owner of Dempsey's Burger Pub, looked a little further than his circle of friends for that business name. It is named for boxing great Jack Dempsey.