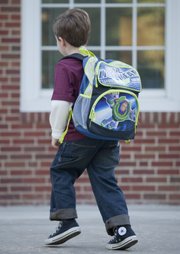 International Walk to School Day
Drivers should be aware of schoolchildren on Lawrence sidewalks and street crossings Wednesday for International Walk to School Day.
Nancy Hays, mother of two, looks forward to it every year: Making the mile trek to school on foot with her daughters on International Walk to School Day.
This will be her seventh year taking part, but it will mark the event's 14th.
"We don't do it every day, I must admit," Hays says. "I work full-time, so we usually drive. We do try to walk when possible… (It's) about a mile, so we have to time it right."
International Walk to School Day, which takes place Wednesday, is designed to encourage physical activity, pedestrian safety and environmental health to children and adults alike.
It will be Nancy DeGarmo's first year walking. DeGarmo is the principal of New York School, 936 N.Y., and she plans to trudge the path to school on foot.
"I decided to do it this year because I wanted to really stress that it is a walkable distance," DeGarmo says. "I think it will be a lot of fun to walk with the kids. It will be a good opportunity to get to know them a little bit, and for them to get to know me a little bit."
Geri Hartley, parent coordinator of the event at Sunset Hill School, 901 Schwarz Road, says that more than 90 percent of the school's students walk that day, and more than 450 people participate just at Sunset alone. There are 46 Kansas schools registered for the event, and six of them are from Lawrence.
"I don't think I've ever had a teacher not participate," Hartley says. "It's just a great event. So many kids participate, and it's such a great way to teach them about pedestrian safety."
Pedestrian safety is the No. 1 reason parents choose not to let their children walk to school most days. In 1969, more than 80 percent of children who lived within a mile of school would walk. Over the years that number has dwindled. According to the National Household Travel Survey, last year less than 15 percent of children walked to school regularly. Eighty-six percent of children arrived at school either by bus or car.
Hays, whose daughters Chloe, 14, and Cara, 9, have been taking part in the activity for years, says the event is very instructive.
"I think it's educational in both directions," Hays says. "The kids need to learn about traffic safety. It also reminds the drivers in the neighborhood to be on the lookout for walking schoolchildren."
Hays says there's another special component to the day: Parents at Sunset use it as a chance to recognize the crossing guards who direct traffic during hot, humid afternoons and cold, blistery winters. Sunset parents like to give their crossing guards a note of gratitude and a warm pair of gloves or a coffee mug to show that they care.
"We try to tell them how much we appreciate the work they do," says Hays. "I think it's just so important."