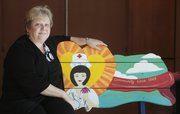 A baby-sitting job in Burns Flat, Okla., put Judith Bellome on the career path leading to her job as chief executive officer of Douglas County Visiting Nurses, Rehabilitation and Hospice Care.
"My parents wanted me to become a doctor, but I wanted to teach or coach," Bellome says.
"As a teenager I was hired as a neighbor's babysitter. The oldest girl, 7-year old Jamie, had cerebral palsy and weighed 46 pounds. This was my first encounter with disability. I learned to do some minor medical things like working with feeding tubes. I loved providing care for Jamie and decided to become a pediatric nurse. Mom and dad weren't too happy, but they supported me."
She enrolled at Pittsburg Hospital, her birthplace, and where her mother had been head delivery nurse. Overcome by homesickness, she returned to Oklahoma, completed her nursing diploma in 1965 and got a scholarship to St. Mary's in Leavenworth. She graduated with a B.N. in 1968, married her husband, John, and moved to Yonkers, N.Y., where he completed an oral surgery residency.
Bellome worked as a pediatric nurse and teaching clinician at Kings County Hospital, had the first of her three children in 1976, completed her M.S. in nursing education at Iona College in 1978 and taught at St. John's Hospital, Brooklyn. She moved to Kansas City in 1982 (when John became the Veteran Administration hospital's oral surgeon) and taught at Avilla College.
While accompanying students on community visits, she fell in love with home and hospice nursing.
"I believe nursing is at its best when the nurse can focus on one patient and family in their own home setting," she says.
She became executive director of a Wyandotte County home health-care agency. When it merged with KC Visiting Nurses in 1985, Bellome became a nonprofit health-care agency consultant working across eight states, served as a Navy reserve for 12 years and became commanding officer for her Fleet Hospital Unit.
Judy and John moved to Lawrence in 2005 after her appointment to VNA. She was amazed at people's responses.
"It's obvious how much this community loves VNA," she says.
"People stop me on the street to tell me how much the organization means to them and their loved ones. It's very moving. I inherited all that love and respect."
Five years later she's still excited about her job, including the challenges and changes she's faced. Like most health-care organizations, VNA has suffered from financial cuts. She and her teams have been proactive in raising money for new ventures. Under her watch they've started the annual 3-D fundraiser — Dine, Dance and Donate, opened the Cottage and introduced a private-duty program for those who need extra help to remain in their homes.
"I love my colleagues and the Lawrence community. I'm so proud of them," Bellome says.
"I feel blessed to be part of such a wonderful organization and community. My practical nursing and teaching experience has made me a better administrator, and I believe everything I've done has led me to this perfect spot."