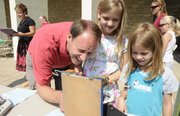 Past Event
Saturday, October 9, 2010, 10 a.m. to 2 p.m.
Lawrence Public Library, 707 Vermont St., Lawrence
All ages / Free
Altrusa International
In addition to the River City Reading Festival, Altrusa International has organized Born to Read, providing a book to every baby born at Lawrence Memorial Hospital. In the nine years of the program, member Kassie Edwards estimates more than 13, 900 books have been distributed.
In addition to the book giveaway, Altrusa has partnered with New York School to read in classrooms and assist in book fairs, and works with The Willow Domestic Violence Center, Family Promise, Douglas County Senior Services, Health Care Access and Boys and Girls Clubs.
After a one-year hiatus, Lawrence's River City Reading Festival is returning for 2010.
Altrusa International of Lawrence, a nonprofit organization for women with a focus on promoting literacy, is staging the festival from 10 a.m. to 2 p.m. Saturday at the Lawrence Public Library, 707 Vt.
Altrusa canceled the 2009 event due to a lack of sponsorships, and the library will be a community sponsor for the 2010 event.
The festival started in 2007 when the headliner was Jim Lehrer, host of "NewsHour with Jim Lehrer" on PBS, and the 2008 headliner was Thomas Frank, author of "What's the Matter with Kansas?" and "The Wrecking Crew."
The 2010 festival will specifically target pre-kindergarten through sixth-grade children. It will include author readings, activities and story-book characters in costume.
"We hope to make this an annual event with the library," says this year's organizer, Rhonda Green. "Children will meet several different authors, hear story tellers and engage in crafts that will make the stories come alive. There will also be storybook characters walking around, and it should be really fun."
Younger children from preschool to third grade will meet Kate Klise, who has written nearly 20 children's books, and storyteller Priscilla Howe. Older children from third through sixth grades will meet Lois Ruby, author of "The Secret of Laurel Oakes," graphic artist and novelist Ande Parks and Ann Ingalls, writer of "Little Piano Girl."
The event is the brainchild of Altrusa member Kassie Edwards, who attended a festival in Florida and wanted to bring her experience to the children of Lawrence.
Edwards has been a member of the international service organization for four years, although the national organization has been around since World War I and the Lawrence chapter since 1951.
Edwards was recognized at the 2009 Altrusa International Convention for her efforts to promote literacy in Lawrence and bringing the festival to town, and she donated the money she received from the $500 leadership prize to this year's event.
"This organization is truly about altruism," she says. "It's doing for others without the expectation of return."