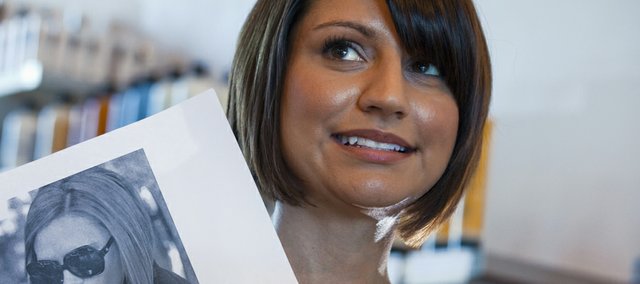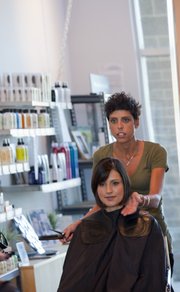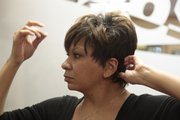 Marci Rhodeman, owner of Avanti Salon, 1540 Wakarusa Drive, says she has a client who brings a picture of Victoria Beckham to every haircut appointment.
"Well, maybe not every time," Melinda Zilliox says, "but, yes, I have."
Zilliox, a probation officer for the Douglas County District Court, has been sporting variations of the former Posh Spice's angled bob for three years.

"Sometimes we've gone a little bit shorter or maybe a little longer. Maybe not quite so angled," she says. "We've tried different things. And mine has bangs."
Rhodeman says clients have been copying Hollywood coifs, as seen on the pages of Us Weekly or In Style magazines, since she entered the business nine years ago.
"It's always kind of been the graduated bob," she says. "Back then, it was TLC — that music group — and T-Boz's look. It was short and stacked. Styles are less complicated now."
Coveting the locks of the famous is nothing new, of course. Trendsetting stars go way back, from Meg Ryan and Jennifer Aniston in the '90s to Twiggy in the '60s and Marilyn Monroe in the '50s.
What regular people tend to forget is that celebrities have personal stylists who often spend hours getting the star's hair paparazzi-ready. Some styles can be high-maintenance for do-it-yourselfers.
"You have to take into consideration the person's hair texture," Rhodeman says. "You have to consider lifestyle, how they dress, how much time they want to spend on their hair, and how they feel about using products. If someone says they're 'wash and wear,' I don't want to give them a look with lots of layers. If it's something super trendy, it takes a lot of work."
Kyra Rouser, a stylist at Sizzors, 600 Lawrence Ave., reminds her clients that all hair is not alike, even with the proliferation of products on the market today.
"I tell them you're going to have to fight your hair every day," Rouser says. "Let's do something that your hair wants to do, so that you're not fighting it every day."

Still, Rouser sees her fair share of magazine photos with the latest, cutting-edge styles.
"There's Maggie Gyllenhaal, which is kind of a shoulder-length messy shag," she says, "And Jessica Simpson is always a popular one. It's long and layered with blond highlights. I also get requests for Kim Kardashian and Halle Berry."
Rouser rocks the Rihanna look herself, which she calls "short and sassy."
"Mine is asymmetrical because I think it's more flattering to the face," she says, "and everybody has a better side. My shorter side is on my better side, and I have the longer side covering up my not-so better half. But, many of my customers want symmetry."
Some of the latest styles are short-short looks, like the pixie cut worn recently by Michelle Williams, which isn't a success on everyone.
"It's definitely shaped for more of an oval-shaped face," Rouser says, "but that's not a deal-breaker. More than the shape of your face and your body type, it's your personality. You've got to have a big personality. You need confidence to wear those short styles."
Niki Foy is a senior stylist at Headmasters, 809 Vt. She says celebrity hair copycats aren't exclusively female.
"You'd be really surprised at how many guys bring in pictures that they've printed from the Internet," she says.
Foy says male hair role models include Johnny Depp, David Beckham and whoever is "of the moment."
"Guys bring in pictures of guys who are cool," she says. "Not necessarily who has the best hair. For instance, when Shaun White won all the Olympic snowboarding events, all the guys wanted to have crazy messy hair like Shaun White. Now that "Mad Men" is so popular, all the guys are switching to the '60s and wanting to have the really coifed, slicked-back hair, which is great because it's such a great style."
Foy speculates that most people simply admire the actor or the actress, not necessarily the haircut.
"So, they think that's that how they're going to look," she says. "I actually had a guy bring in a picture of Brad Pitt with a buzz and I had to explain to him that all he had was a buzz and he could get that for five dollars at the barber shop. But, he wasn't going to look like Brad Pitt afterwards. It's kind of heartbreaking to have to tell somebody that."
Zilliox returned to Avanti Salon last week for another Victoria Beckham cut. But, she adds, it's more like Victoria circa 2007.
"She has a little pixie now, but I'm not going to do that," Zilliox says. "That's a little too daring for me."