Wednesday, October 6, 2010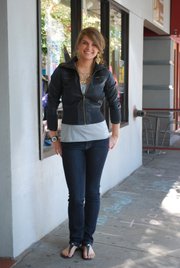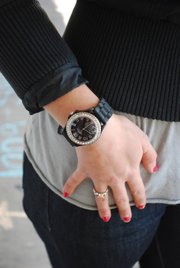 Age: 18
Sign: Pisces
Occupation: Cosmetology student and retail salesperson at Envy
Hometown: Lawrence
Time in Lawrence: since second grade
What were you doing when you were scouted? Working downtown at Envy
How would you describe your style? It varies from day to day, but my co-worker describes it as "laid-back and cute."
What are your current favorite fashion trends? I like to mix trends, and I frequently alternate my personal style. Right now, I like big sweaters, menswear vests and layered clothing for the fall. I also like skirts with tights and boots.
What are your least favorite fashion trends? I don't like leggings worn just with a shirt, and even though big fur vests are in style right now, I'm not a huge fan.
What would you like to see more of in Lawrence? An H&M; located closer to town.
What would you like to see less of in Lawrence? I'm not into the whole hippie style.
Do you have any fashion influences? My workplace — Envy — and the clothing that we sell. I'm also influenced by the trends I see in fashion magazines, including In Style, Seventeen, Marie Claire, Vogue, Lucky and Elle.
Do you have any piercings or tattoos? I have my ears pierced, but that's it.
People say I look like… Shailene Woodley, the actress who portrays Amy Juergens on "The Secret Life of the American Teenager."
Tell us a secret: I'm getting married in a year!