Wednesday, October 6, 2010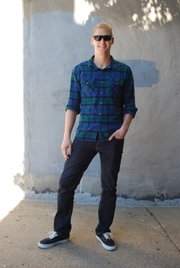 Age: 20
Sign: Aquarius
Occupation: student
Hometown: Topeka
Time in Lawrence: 2 1/2 years
What were you doing when you were doing when you were scouted? Being an eligible bachelor…
How would you describe your style? Laid-back and comfortable with a little personal flair.
What are your current favorite fashion trends? For fall, flannel shirts and button-ups.
What are your least favorite fashion trends? I reject Ed Hardy apparel and the frat-boy/polo look.
What would you like to see more of in Lawrence? More hip shops for men to purchase clothing.
What would you like to see less of in Lawrence? Frat houses and the greek scene.
Do you have any piercings or tattoos? Nope.
Do you have any fashion influences? I don't have any specific influences, instead I choose clothing that I like and that suits me.
People say I look like… Someone told me Daniel Craig once, but I don't believe them.
Tell us a secret: I love the TV show "I Love Lucy." Lucille Ball is hilarious!