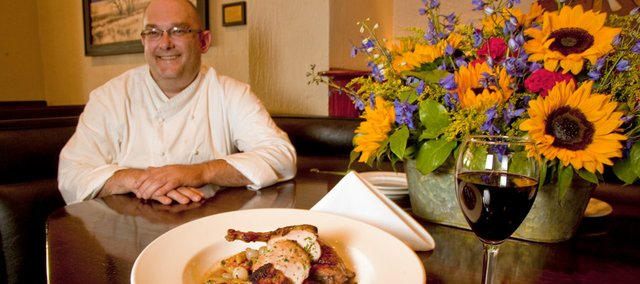 Thursday, October 7, 2010
Temperatures are dropping, and Lawrence is inching into fall. The new season brings new seasonal foods and the desire for warm comfort foods, and many Lawrence restaurants are changing their menus to offer a fall meal to customers.
TEN at the Eldridge Hotel, 701 Mass.
When executive chef Chris Wofford finishes developing a new seasonal menu, he's only about a month away from the next one. The constant changes allow him to be creative with local foods and new flavors.
"Ideas pop into your head," he says.
For the fall menu, he's developed many dishes, but a star is the roasted pheasant with fingerling potato stew. The pheasant is brined in a maple brown sugar sauce for two days, sautéed and then roasted. The bird then sets on a stew full of carrots, onions, tomatoes, potatoes and mushrooms.
The dish went through various stages before Wofford settled on this version, which he says is fairly healthy. The maple brown sugar flavor saturates the bird and gives a full taste of the fall season to come.
"It's a tender bird with the brine," he says.
Five 21 Restaurant at the Oread Hotel, 1200 Oread Ave.
Chef Steve Brucker likes to develop specials based on ingredients he has around. In this case, he had plenty of fall favorite butternut squash, beets and pork chops.
"It's just something that sounded good," says Brucker, who trained at Le Cordon Bleu. "I get something in, and then I go from there."
What he got was a walnut-crusted pork chop with butternut squash risotto and a roasted red and gold beet mixed green salad. For the pork chop is a plum and port wine reduction sauce, and the salad is topped with orange shallot vinaigrette.
The restaurant is only open for dinner, and this special will only be available for a short time.
Sylas & Maddy's Home Made Ice Cream, 1014 Mass.
Owner Cindy England introduces a new fall ice cream every year, and this year's doesn't disappoint. An employee created Betwixed, an orange-colored sweet cream ice cream with Twix, chocolate-covered pretzels, marshmallow fluff and caramel mixed in. This, along with other fall flavors, was already behind the counter in September.
"We started a bit earlier this year because we started getting so many calls," she says.
England says it's fun to come up with new flavors to add to their fall rotation, which already includes carrot cake, apple pie, pumpkin cheesecake and cinnamon.
"People love coming in and trying the new flavor," she says.
The Basil Leaf Café, 3300 W. Sixth St.
Chef Brad Walters said he planned to change up almost half the restaurant's pastas and most of the appetizers for the fall weather.
"I'm looking to go a little bit heavier, bring in more comfort foods," he says.
Walters said he's going to introduce calamari and even frog legs with a cayenne cream sauce and jalapeno apple jelly onto the appetizer menu. Other new items, like the pumpkin risotto, use local ingredients.
"I try and use seasonal just because you can use local ingredients," he says. "It keeps things exciting."
Other fall foods he's adding to the menu: butterscotch rum panna cotta, chocolate risotto with raspberries and walnuts, beef tips and various pastas.
Java Break, 17 E. Seventh St.
Manager Sarina Geist says the local shop creates seasonal drinks for summer and the fall/winter season. This season's drinks: caramel apple cider, hazelnut chai and minty hot chocolate. She says the drinks give people something different from the norm to order.
"People sometimes don't know what they want, and the menu can be overwhelming," she says. "These sort of stand out."
The Pink Box Bake Shop, 727 Mass.
Owner Michele Kaminski already saw her shop sell out of Halloween-decorated sugar cookies before it was even October.
"They sold like hot cakes," she says.
The business professional-turned-baker switches up her available sweets regularly, but as it gets later in the year, she starts introducing more pumpkin, apple and cranberry desserts to her menu. She does classics like apple pie, which she says "people go nuts over."
She also makes more nontraditional fall desserts, like pumpkin chocolate cheesecake, complete with a layer of chocolate fudge and a layer of pumpkin cheesecake.
Other items to watch out for: pumpkin raisin muffins, cranberry nut bread, pear and caramel tarts, Dutch apple cake, apple cream tarts and pumpkin pie. Kaminiski doesn't bake the same thing every day, but orders can be taken for a desired dessert.
WheatFields Bakery Café, 904 Vt.
Café chef Phil Toevs tries to use local ingredients as often as possible in his dishes, so while they aren't limited to the fall season, they definitely fit in with the flavors. Walnut sage bread appears on the menu when the ingredients are available locally. The timing of planning dishes to growing seasons is what he finds most difficult.
"You never know what you're going to get," he says. "The recipes are the easy part. The planning is hard."
As the weather changes, so do foods available, so Toevs said he'll soon have more dishes with butternut squash, sweet potatoes, acorns and other fall foods on the menu. These ingredients will go into soups, pot pies and fillings for empanadas.