Originally published October 7, 2010 at 7:28 p.m., updated October 7, 2010 at 9:40 p.m.
It took Tina Gordzica about 15 minutes to go from the living to the undead Thursday night.
Photo Gallery
Lawrence Zombie Walk 2010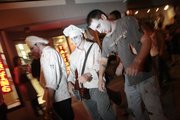 Hundreds of Lawrence residents dressed in their zombie best and took to the streets in downtown Lawrence on Thursday, Oct. 7, 2010.
Gordzica was one of hundreds of Lawrence residents who turned out for the fourth annual Lawrence Zombie Walk downtown.
"I'm excited," Gordzica said. "I have an affinity for zombies."
The horde that gathered in South Park before the walk began appeared to share the same passion for the living dead. The noisy crowd was filled with tattered clothing, face paint and spare body parts. Soliciting fake blood was an all-too-common occurrence within the group.
When those returning from the dead were ready, they made their way down Massachusetts Street to the delight, and sometimes horror, of people lining the sidewalks to watch.
L. Marie Avila of Lawrence sat on the steps of the Douglas County Courthouse with her 5-year-old son, Dameako, to watch the show. After seeing the walk advertised on a flier, she decided the event would be an entertaining way to spend the evening.
"It's interesting to see the people in character," Avila said. "It's like a piece of haunted house right here in downtown Lawrence."
Dameako showed his excitement by practicing his own zombie walk wherever he could find space.
Gordzica brought her 15-month-old daughter, Alyssa, along for the show. The young zombie, complete with face paint and a pink skeleton outfit, looked ready to fit in with the scariest of the pack.
"I hope she thinks they're funny," mother Gordzica said. "I think she'll have fun."
The numerous zombies came with a variety of personalities. Some were fearsome and interacted with onlookers while others took a more docile approach, aimlessly meandering down the sidewalk.
Amanda Wells of Lawrence and her three children were dressed in classic zombie attire. She said their approach to zombie-ness was straightforward.
"Just dead," Wells said of their style. "We were just going for the good, old, cyanotic dead look."
The walk, which took the undead from South Park to Seventh Street and back, provided more than entertainment for the community. For the second year in a row, the event also served as a way to collect items for the local food and homeless shelters and the Lawrence Humane Society.
The solid turnout of an estimated 350 people had many of the zombie walkers looking forward to next year. First-time zombie Kary Decunha held his zombie dog and looked at the crowd.
"It impresses me," Decunha said. "I think everyone loves zombies a little bit."