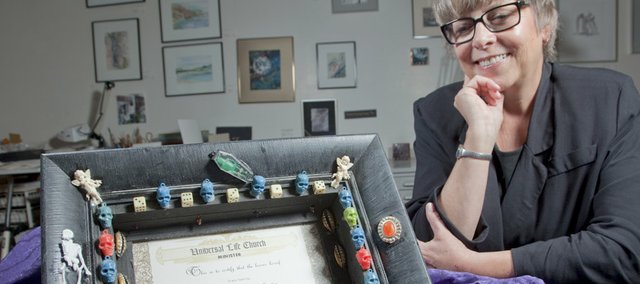 It was T-minus seven days and counting before the day of Linda Hardwick's son's wedding, and a minister had yet to be secured.
"My son had been teasing me, saying, 'I want you to do the wedding,'" Hardwick says. "And I said, 'I can't do that, I'm not a minister.' He said, 'You can go online.'"
So, one night last September, Hardwick and groom-to-be, Jesse Hardwick, sat down at the computer and logged on to AmericanMarriageMinistries.org.
"Ten minutes later, I said, 'OK, I guess I can perform your wedding now,'" Linda says.
Still, she wasn't going to take any chances.
"I ran to the courthouse the next day and said, 'This is what I did. Is it really legal?' And they said, 'Oh, sure. We get this all the time.'"
Kansas law allows any ordained clergyman of any religious denomination or society to perform marriages, as long they file credentials or proof of ordination with the judge of a probate court before the wedding takes place.
"It was awesome, it really was," Hardwick says. "It was a casual wedding, everyone was wearing jeans. I wore black jeans and a black shirt, and I threw on a cross necklace to make me look official.
"After the marriage was performed, I had to make sure I had witnesses sign the certificate, then have the bride and groom sign it. Then, I signed it and had to take it to the court to be filed."
Diana Dunkley of Lawrence was ordained by the Universal Life Church Monastery in 1990, before the dawning of the age of the Internet.

"I was an avid fan of Saphira, the psychic on KKFI radio in Kansas City," Dunkley says. "She had a guy on her show named George who had a crystal shop in Parkville or something. They were talking about the Universal Life Church and she said, 'Hey, George, what do you say we ordain people right now if they want to be? Put your hand on the radio…' So, I did, sent in my five dollar love offering and have been an ordained minister ever since."
Dunkley, an artist, didn't conduct her first wedding until Oct. 14, 1995, for her close friend and studio partner, Margaret Rose and her husband, Steve Ramberg.
"We're not very religious, so we wanted something neutral," Rose says. "I have some very religious Christians in my family. I didn't want to offend anybody, but I didn't want to do something that wasn't me. Diana is really a spiritual person in that she seeks a spiritual life. She kind of touches that collective consciousness that no matter what your religion is, or is not, she knows how to tap into that."
Dunkley, who went on to perform two more matrimonial rituals, says her biggest obstacle was conquering a bit of stage fright.
"I'm always nervous when I public speak," she says. "I have to make myself do it, but I have a purple raiment that I wear that helps me take on a different kind of role. It came from the sale rack at Natural Way. I think I got it for five bucks. You would never just wear it. It really requires a special purpose."
Retired Kansas University theater professor Ron Willis became ordained by the Universal Life Church Monastery (www.themonastery.org) a few years ago at the request of a couple of former students.
"They were getting married, and they didn't have any affiliation of note with any church in town," he says. "So, they asked me to conduct the ceremony."
"I think I've done six total," Willis says. "I've only done people I know, who I consider friends. I don't advertise. I don't charge. When they come to me, they know what they're getting."
Willis likes to tailor his ceremonies to fit the bride and groom's wishes, beliefs and styles.
"I communicate with the people at considerable length before the wedding. If they want no references to God or religion, then there are none," Willis says. "But, most people don't want that. If somebody wants something more than — usually because of a grandmother or other family member — we do that. I craft it to whatever they want to have done."
Josh Longbottom, associate pastor at Plymouth Congregational Church, is all-too aware of the ordained-by-Internet movement.
"Half my friends are ordained, according to the Internet, and have done wedding services," he says. "They give me trouble all the time.
"Every now and then, I'll see someone and I'll say, 'Hi, I'm Reverend Josh Longbottom' and they'll be like, 'I'm a reverend, too. A reverend of the Holy Universal Light of Web Page 369,' or whatever."
Longbottom says he isn't put off by the ease at which anyone can obtain ministers' credentials by pushing a few buttons.
"It's the equivalent of a tax loophole, but it doesn't bother me if people do their own ceremonies. If you get the Internet ordination, you don't owe as much money as I do," he says, referring to the three years he spent attending Eden Theological Seminary in St. Louis.
"It cost me about $30,000 after a ton of scholarships," Longbottom says.
The pastor also notes that it takes time, consideration and experience to conduct a ceremony that's relatable to all generations.
"Performing a wedding service that grandparents don't notice is different, but doesn't make the younger people nauseous, that's a specialty," Longbottom says.
"And, it's a sacred service. It has a power to it, like prayer."