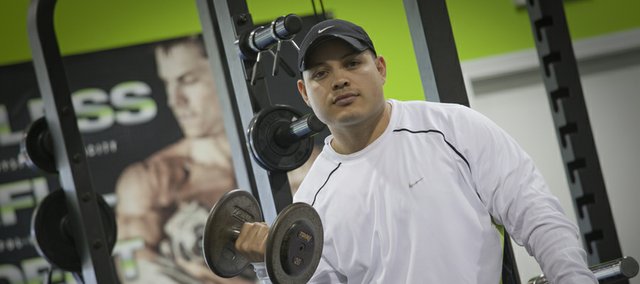 Throw some people in at the deep end, and they sink. Not Fernando Rodriguez.
When dropped into a swimming pool as an infant, he started swimming. When his Olympic swimming hopes were dashed, he learned American football and played for Kansas University. When professional football opportunities waned, he developed unique, fun fitness programs. He's now proud owner of a new-concept fitness business, UnderGround Lab at 919 E. 29th St.
"Life is too short to not conquer all your dreams," he says.
Born in Mexico City in 1980, Rodriguez started swimming at six months. He became part of Mexico's national swim team in 1987.
"Swimming was my whole life," he says. "After three-hour training sessions, I couldn't wait to get back to the water again."
In 1994, when national coaches were preparing Rodriguez to compete for the 1996 Olympics, his family fled to Lawrence.
"Things weren't good in Mexico," he explains. "My parents chose our family's safety over everything else. It was very hard for me to accept, but I respected their decision."
When Central Junior and Lawrence high school peers made fun of him because he didn't speak English, Rodriguez mastered the language quickly and started playing football.
"I'd never played American football before," he says. "Coaches discovered I had a natural ability and passion for it. When other students saw this they treated me well."
Rodriguez played two years at Highland Community College, followed by two years as free safety at KU. He was recruited by several professional European team but couldn't accept because he was in the process of becoming an American citizen and gave that priority.
Rodriguez re-set his goals and entered the fitness business. He graduated from Emporia State University with a B.A. in exercise physiology/health promotion in 2006 and worked as a personal trainer to save money to open UnderGround Lab in 2008.
"The name and concept developed from those old-school 'underground' music tapes created by artists who weren't big enough to have their music played on radio. Locals knew the artists were really good musicians and knew all about the underground tapes," he says.
"Because I like to create unique exercises for individual tastes and styles and keep everything fresh and fun, the Lab concept seemed very appropriate. I'm hoping the whole Lawrence community will soon learn about how good UGL is and how unique it is.
"You won't find weight or running machines at UGL," he says. "The only 'machine' is the human body. You'll find tractor tires, prawlers, dumbbells and medicine balls, and I guarantee you will have fun while you get fitter."
In addition to developing unique and creative ways to make workouts fun for adults of all ages and fitness levels, Rodriguez wants to create programs for kids in the 6- to 12-year-old range.
"I'm truly one of those people whose wheels never stop turning," he says.