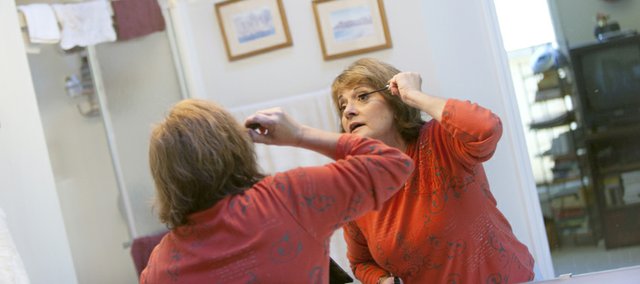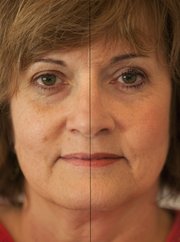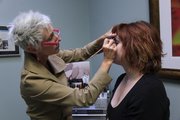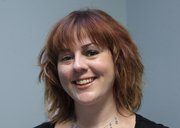 They spend their days applying makeup to beautify other women, but what tricks do the professionals pull out of their cosmetic bags to use on themselves?
Local make-up experts were more than willing to share their favorite tricks of the trade.
"The thing that's really important today — something that's been happening over the last several years — is primer," says Pam Biemick, esthetician and owner of Amazing Skin and Makeup, 719 Mass. "Primers can really help to even out texture, tone, and really give a nice smooth surface before you even start doing any kind of makeup application."
Primers are used as a base for liquid or mineral foundation or, in Biemick's case, as a stand-alone.
"I don't think everybody needs foundation. In fact, I don't wear it," she says. "I just wear a primer and concealer where I need it. There's a technique I use in applying them that can, literally, take 15 years off. That's huge, because I think people are looking for short cuts."
Mary Kay beauty consultant Sandy Cooper says her best trick is camouflaging her biggest problem area.
"I have allergies and dark circles under my eyes, which tend to be genetic," she says. "So, I like to address those. If I don't, someone will come up and ask me, 'Are you not feeling well?' 'Or, you look tired.' Well, I don't want to look tired."
Cooper takes a four-step approach to her under-eye area.
"We have something called an eye revitalizer that lightens the dark circles without covering them up, so it kind of gets to the source of the problem. Of course, I cover up, too. I use a concealer, then foundation over the concealer. Then, I do a highlighter pen to reflect light. I bring out the big guns for the under-eye circles."
According to Cooper, yellow-tinted concealers work best to hide dark circles on most people, except for women with very light ivory skin tones. But, using yellow requires time and practice to get it right. It's easy to spread it on too thick.
"I'm a darker ivory. But, I like to work fast in the morning, so I just stick with a light ivory concealer," Cooper says. "I think it's a little more user-friendly, but it may not be as effective as a yellow."
To make her eyes pop, Biemick says she uses eye shadows in complimentary colors, contrary to popular thought.
"A lot of times, people with blue eyes think that using a blue eyeshadow will make their eyes look bluer. It doesn't. If that's your goal, we want to look at using complimentary colors."
For blue, that color is orange, so shades like copper, brown and other neutral earth tones will make shades of azure appear more intense.
"I wear a burgundy color shadow because my eyes are green," Biemick says.
Sue Hopkins, Clinique counter manager at Weaver's, uses a lip liner to make her lips appear fuller.
"You can't make yourself a brand new lip line," she says, "but you can line the absolute outside perimeter with a very nude color and it will maximize your lips."
As a woman ages, her lips start to thin and lose color. Lip liners not only give the illusion of a younger mouth, but it prevents ugly "bleeding," too.
"You can fill in the entire lip area with the nude color, which will hold your lipstick on and help it from creasing and running in fine lines. But, you want a very nude color. They used to do the dark and scary lip liner with light lipstick. Horrible. Don't go there. It was a bad trend, but it's over," Hopkins says.
Biemick says the trick to finding the perfect lip color is to go one — but only one — shade darker than your natural lip color.

"Especially as we mature, some people think they want to go even darker and that can actually make the lips look smaller," she says. "And since our lips do get smaller as we age, that may not be the right thing. And, with the fine lines around the lips and mouth, darker colors just bring more attention to those, too."