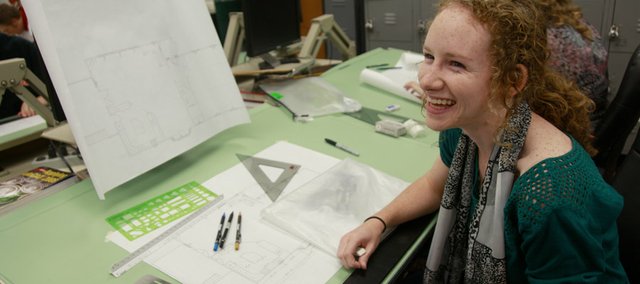 Tuesday, October 12, 2010
This isn't her grandfather's shop class.
And her grandmother? Back in the day, she was probably down the hall in home economics class, baking a cake.
Today, Lawrence High School senior Porscha Radford works elbow-to-elbow with the boys — and a few other girls — in Automotive Technology 3.
"My grandpa was a mechanic and he was always working on cars. I found it really fun, and it's interesting to work on stuff," says Radford, who wants to follow in her grandfather's greasy footsteps for her career. "I'm not traditional. I don't want to be something like a nurse or a singer or dancer or something like that. I want to have fun, and this is really fun."
Porscha, who was named after the vintage Porsches collected by her grandmother, has completed two auto tech classes to get to where she can work in a real shop environment on late-model cars with modern tools.
"We've got a lot more equipment than we did 10 years ago," says Ted Crady, LHS auto tech instructor. "We've got tire machines now, a lot more upgraded computers, later-model cars. We're up to 2010 as far as our diagnostic equipment."
Shop class changes
Don Clancy, Free State High career and industry teacher, has seen a lot of changes in his 28 years.
"It was called either educational technology or woodworking or automotive, and it was all just lumped in together," he says.
"Everything's 'career pathway' now, through the state of Kansas. You have to have a specific degree and you have to have a specific curriculum, because if you don't follow the state curriculum through the federal guidelines for this 'career pathways,' you don't get any state or federal money now," Clancy says.
To that end, Clancy will teach eight sections of career and technical education classes this year including Drafting, AutoCAD, College-Prep Engineering, Industrial Design, Architecture and Construction Technology 1, 2, 3 and 4.
Clancy says new requirements for high school graduation have caused a decrease in enrollment in many career and tech high school courses.
"Enrollment in construction is very low, and it's that way across the board in every career and technical program across the state," he says. "When the state came in and said you have to have more hours to graduate, those were taken from us. There were mandatory hours — an extra year of math, an extra year of science and fine arts, and that cuts into the kids' electives."
Those who tend to remain, he says, are students who are dedicated to learning a trade, or getting a jump on their post-secondary training.
"The kids who are left are the hard-core, technical education students. We have quite a few of those," Clancy says. "Usually we run about 12 people in a construction class."
Sam Corkins, Free State senior, is one of those students Clancy calls "hard-core."
"This is my third construction class. I've had three years drafting, architecture and college prep engineering," he says. "I think it will give me an edge when I apply to KU architecture school."
Corkins says he's appreciated the hands-on nature of education in the career and tech wing of Free State.
"My sophomore year, we built Adirondack chairs," he says. "My junior year, we built a 20- by 10-foot shed, and finished it completely with shingles and everything."
And, Corkins is quick to add, there is no stigma attached to today's shop class students as there might have been in the past
"That's not the case anymore. We have people in this class who are National Honor Society. There are some very intelligent students who take these classes," Corkins says.
College credit
Charlie Lauts, LHS career and tech teacher, said the stiffer graduation requirement present a double-edged sword to potential trade-school students.
"One of the biggest fortunes we have is that everyone chooses to go into our classes, so the interest is always there. But, it's still tough for them to take our classes because of requirements with foreign languages, fine arts and P.E., plus core classes of reading, writing and arithmetic.
"Our goal is to get these kids ready for a career or technical school or four-year college, and they can't even get here," Lauts says. "Some of them can't get in here until their senior year, and all the stuff they want to do won't fit into their schedules."
The good news is, once students can enroll in trade and career classes, many can be taken for college credit.
"We have what we call articulation," Lauts says. "Students can take classes here and already have credit at Johnson County. If they take my Intro to Drafting class or my AutoCAD class, they already have five college credits before they even get to Johnson County."
For Erica Hernly, who is designing a house from graph paper to 3-D model in Architectural Design 1 at LHS, the class is a litmus test of a possible career.
"My dad's an architect, and I just recently became interested in it," she says. "I'm a senior, so I'm trying to figure some stuff out and I've realized that I really like houses so I'm looking into it. My dad took architecture classes his sophomore year in high school, so there's a little bit of pressure there, I guess."