Wednesday, October 13, 2010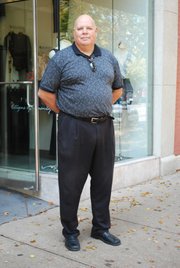 Age: 55
Sign: Taurus, so either I'm full of bull or I am a bull…
Occupation: entrepreneur and owner of Britches Clothing Store
Hometown: London
Time in Lawrence: Well, I live in Kansas City. However, I frequently come to Lawrence to check in on my store.

What were you doing when you were scouted? Working at my Mass Street shop.
How would you describe your style? Business casual.
What are your current favorite fashion trends? Young contemporary — modern clothing at moderate price points.
What are your least favorite fashion trends? Grunge and hip-hop styles. I think clothing should fit and pants shouldn't be worn around your knees.
What would you like to see more of in Lawrence? More fashion clothing stores with a diverse selection of apparel and more nightclubs — not bars. Nightclubs give people a reason to get more dressed up.
What would you like to see less of in Lawrence? I don't know that there is something I'd like to see less of. I think Lawrence is a pretty balanced, well-rounded community. Maybe less parking meters…
Do you have any fashion influences? For the clothing in my stores, I look at contemporary fashion magazines and selections made by our full-time clothing buyer in California. I used to sell high-end Italian suits, but when I switched to selling strictly women's clothing, I stopped looking at trends in menswear so much.
Do you have any piercings or tattoos? No.
People Say I look like: Fester from "The Addams Family."
Tell us a secret: I have at least 25 pairs of black slacks.