Wednesday, October 13, 2010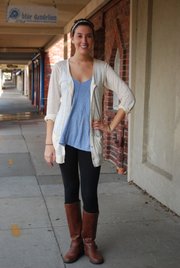 Age: 19
Sign: Scorpio
Hometown: Dallas
Time in Lawrence: 1 1/2 years
Occupation: KU student
What were you doing when you were scouted? Working downtown.
How would you describe your style? Bohemian/urban basic. I like monochrome colors and a variety of accessories.
What are your current favorite fashion trends? Loose-fit apparel and lots of jewelry and accessories — but not all worn together.
What are your least favorite fashion trends? Bedazzled shirts that scream Jersey Shore, graphic T-shirts and Ed Hardy clothing.
What would you like to see more of in Lawrence? More nightclubs and a better variety of clothing stores.
What would you like to see less of in Lawrence? Snow in the winter — it's cold and messy!
Do you have any fashion influences? Not particularly. I like to look at magazines and in stores and see what I'm drawn to.
Do you have any piercings or tattoos? I have my ears pierced.
People Say I look like: Kate Voegele, who plays Mia in the TV show "One Tree Hill."
Tell us a secret: I have to sleep with the TV on every night…