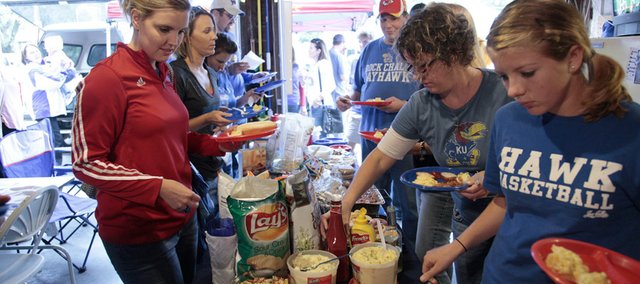 Thursday, October 14, 2010
Used to be, you'd pull into the stadium parking lot an hour or so before the game, drop the tailgate on the station wagon, unfold some lawn chairs and call it a party.
That was SO three decades ago.
Today's tailgate parties are all-day and all-night multimedia productions with satellite TVs, stereos, elaborate barbecue spreads, colorful tents, even custom vehicles and costumes.
Erik Lund of Overland Park is one over-the-top tailgater who believes more is more.
"We call ourselves Team Tailgate. It's just a group of guys that are passionate about not only KU football, but taking it to another level," he says.
As head cook and grill master, Lund wears a personalized chef's jacket complete with Jayhawk appliqué and monogram. He and his cohorts set up camp at the corner of 11th and Mississippi streets with a big tent, gas-powered generator and customized van, adorned with Jayhawk decals.
"That was done in Hays, Kansas, for a bottle of hooch," Lund says. "He got the hooch, and we got a van with all these decals on it."
Team Tailgate uses the generator to power its DirecTV satellite, among other things.
"Then, we've got the 50-inch TV and the iPods are going constantly, so the deejay is fired up," says Lund. "Then, as the chef, you always need a little juice for whatever you're doing. I've usually got queso going in the Crock-Pot. And, for a breakfast tailgate when we kick off at 11 a.m., I have the pancake griddle going. Everything's got a purpose."
A few blocks away at Ninth and Illinois, Lawrence resident Vicki Vormehr organizes an epic gathering of regulars and friends-of-friends in the parking lot of a friend's apartment building.
"We get here four-and-a-half hours before the game," she says. "At the 11 o'clock games, we're here at 6:30 in the morning. When we're done eating, we put everything in the garage and go to the game. Then, we come back after the game and cook hot dogs and brats all over again."
Travis Hicks, owner of the complex, says the location and the double garage on the property come in handy.
"As close as it is to stadium, it's the perfect setup because everybody was looking for a place to park," he says. "The garage is a great benefit because we can jump in there when it rains, or even when it's cold out. We set up the food inside and we've got the TV going, so we can watch other games before our game. There's a refrigerator in there, and we've got a grill going all the time, maybe two grills."
But, the best thing in the garage — at least, according to the females in the bunch — is a modest little throne, tucked behind a curtain of plastic in the corner.
"There's a toilet seat you can get at Cabela'sm and it fits over a five-gallon bucket," Vohrmer says. "It's perfect and it's for women only — for emergencies, like if we don't want to walk all the way to the Kwik Shop. We've got the tarp up, toilet paper on a pedestal and Purell hand sanitizer."
John Hosler of Valley Falls has been partying pregame with his family in the same spot on the northeast side of the stadium for eight years. He says their location isn't as high-tech as some others, but it is award-winning.
"The last three years, we've won the tailgating competition," Hosler says. "The athletic department does it, I believe, and they come around and video everybody, to find who they think has the best tailgate for that weekend. If you do, you win a Weber grill."
Hosler admits his group hasn't earned the honor this year, and he thinks he knows why.
"Before Coach Mangino left, our name was Camp Mangino and we had a big sign that was camouflaged up. And we had T-shirts made that we wore every year with Mangino on them. This year, we didn't have anything (to wear) with the turnover of the coach. We'll have to see what happens this year and get a new name from there."
Lund insists his tailgate friends are competitive only in the sense that they like to outdo themselves every year. And they're no fair-weather fans.
"The product on the field, I mean, we've seen the highest of highs and some low lows," he says. "But the constant has been us tailgating and having a good time. It's all about good guys, good times, good food and cold beer, really."