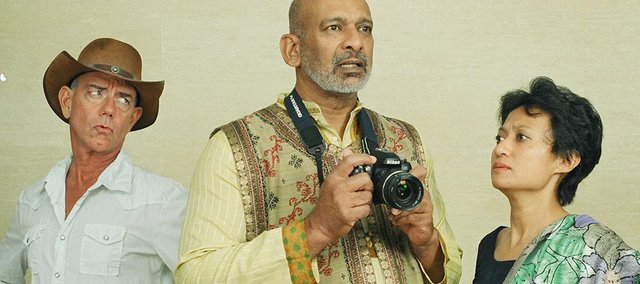 Past Event
Wednesday, October 20, 2010, 7 p.m. to 8:30 p.m.
Theater Lawrence, 1501 New Hampshire St., Lawrence
Not available
You could say Azra Haq and a throng Lawrence residents of disparate faiths meet religiously every month to talk about unity.
The gatherings are a part of the Lawrence faith series, "An InterFaith Dialogue: Moving toward Mutual Appreciation." Formed in 2007, the coterie assembles both to educate and to learn, and nearly every faith is represented.
"We don't like the word tolerate," Haq says. "That just means you are forced to acknowledge each other. We like to say mutual appreciation."
The group's goal is to improve religious understanding in the community. As part of its initiative, it will host "The Hindu and the Cowboy" at 7 p.m. Wednesday at Theatre Lawrence, 1501 N.H.
Donna Woodard Ziegenhorn wrote the play in 2002, inspired by the conflict and turmoil that cropped up in the aftermath of Sept. 11. Eight years have passed, but she believes the play is still relevant.
"I think that today in the news we see a lot of heightened rhetoric around religious traditions," says Ziegenhorn, a Kansas City playwright. "Specifically we are seeing a lot of negative talk toward Muslim communities. ... It is critical that we confront those prejudices and misunderstandings."
The one-act play runs about an hour, and it features several vignettes that were inspired from the Mosaic Story Project, spearheaded by Ziegenhorn. Back in 2001, Ziegenhorn and a small group of people interviewed more than 80 Kansas City residents in order to document local stories. They met one-on-one, recorded and then transcribed each account. The stories filled piles of paper once written down.
When Ziegenhorn was writing the play she would leaf through the stack of interviews and pick, say, the story of a black preacher who grew up in the rural South, to read that day. She would read the complete transcript from each interview, which tended to fill up at least 25 pages, before beginning to write. Next she would let the story marinate in her mind, focusing in on one aspect, one theme that seemed to have special weight. After picking through the pile of more than 80 stories, Ziegenhorn was amazed to see several salient unifying threads.
"There is a continuity that flows through this play," Ziegenhorn says. "There is a sense of beginning and middle and an end. It was just a fabulous creative process."
In some cases the characters in the play are composites. Ziegenhorn combined stories that contained similar themes, blending them to make one cohesive narrative. In other instances, the character or the story remains loyal to the original.
"I think people will be struck by the individual characters and the stories that they have lived," Ziegenhorn says.
Since 2002, Ziegenhorn has revised the play, condensing it from two acts into one, and refining it to make it shorter and sharper. The version that will debut in Lawrence will be a fresher variant than performances of the past.
"We will be one of the first audiences to see this new production," says Dru Sampson, of Interfaith Dialogue. "So if you've seen it before it should at least be somewhat different."
The play will be free but open to donations. Financially, members of Interfaith Dialogue would like to fetch enough funds to cover the cost of the production. But their main pursuit is to encourage Lawrence residents to engage in dialogues on faith, launching their own groups for discussion.
You don't start by trying to solve the Israeli-Palestinian conflict, Sampson says. You start by shaking hands, learning names, telling stories. And between the recent headlines over burning the Koran and debate over the Ground Zero mosque, a dialogue on faith is very needed, she says.
"I have had people express to me that they feel interfaith dialogue is a threat to their own religion," Sampson says. "Rather than it being a threat to your religion, it can make your faith stronger. What (an interfaith dialogue) does is challenge you to learn more about your own religion — what does your holy book, your scripture, your beliefs say about particular issues?"
Education is a good thing, Sampson says. And she believes "The Hindu and the Cowboy" aligns with her group's goal of getting people to appreciate other religions.
"I think the people who come to this production will have a very positive personal experience," she says.