Audience members can expect a wild time at this year's Death Becomes Hair Masquerade Ball and Fashion Show, where they're encouraged to match the staff and models' costume efforts for a true Halloween event.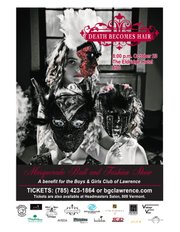 Past Event
Saturday, October 23, 2010, 8 p.m.
Eldridge Hotel, 701 Mass., Lawrence
All ages / $30
The ball and fashion show, which is Saturday, is a benefit for Boys and Girls Club of Lawrence, a local, nonprofit organization providing after-school programs to more than 1,200 area students.
"My child goes to Boys and Girls club, so I get to see a more direct impact," says Micki Colgan, event coordinator and owner of Headmasters Salon, 809 Vt. "I want to make this show a traditional, landmark event in October, where people can go and have fun.
"Costumes are not required, but they are encouraged," she adds. "This event is a party, a celebration of the community and the hard work of local businesses."
Headmasters is creating artistic hair and makeup styles for the models, and show participants include downtown merchants and Lawrence residents, as well as some more well-known faces, like KU basketball players Marcus and Markieff Morris and former professional football player Gale Sayers of the Chicago Bears.
From tuxedos and masks to wenches and bawdy pirates, the models and audience members will be diverse.
"(You'll see) people from downtown and campus and folks from across town," Colgan says. "I want to bring all of Lawrence's energy together for this event."
Ticket holders will each receive a bag with professional, eco-friendly products provided by Aveda and sample a complimentary dessert bar. There will also be a cash bar and a live auction, with top prizes that include invitations to participate in ghost hunts led by professional Paranormal Research Investigators (PRIs).
At the show, PRIs will announce to all audience members the results of their recent investigation at Headmasters, which they visited in order to determine whether the building is haunted.
For more information regarding the Death Becomes Hair Masquerade Ball and Fashion Show or to purchase tickets to this year's event, visit the Boys and Girls Club of Lawrence website, www.bgclawrence.com. Tickets can also be purchased at Headmasters.