Little bacteria are a big deal in Madeleine McLaughlin's home. And it's not the bad type of bacteria you see in cartoon form running around ads for cleaning products. Rather, it's the good bacteria found in probiotics.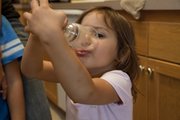 Nutrition Roundtable: Prebiotics and Probiotics
Patty Metzler, a registered dietitian with Lawrence Memorial Hospital, will discuss probiotics and prebiotics at 9:30 a.m. Thursday at LMH, meeting room A. Participants must preregister at 749-5800. It is free.
A couple times per week the Lawrence mom lines up son Lucas, 5, and daughter Sophia, 3, in the kitchen and stirs together a mixture of probiotic powder and water. The kids squeal with delight and gulp the stuff down in little long-stem glasses, smiling broadly.
The kids have been taking probiotics for pretty much their entire lives, and McLaughlin says their digestive health has always been strong, a trait she attributes at least partially to their semi-regular swigs of beneficial bacteria.
"They don't really have issues, never really had, and I like think really that's because of the probiotics," she says, putting the cap back on the family-sized jar of the stuff she buys online.
Probiotics have become the rock stars of the intestinal health world of late, receiving time with Dr. Oz and Oprah and even their own official description by the World Health Organization: "live microorganisms, which, when administered in adequate amounts, confer a health benefit on the host."
The bacteria are naturally found in fermented foods like yogurt, kefir, sauerkraut and a number of other foods. More recently, the microorganisms have been added to foods and been sold as pure supplements in the form of pills and powders of varying strengths. In fact, according to the National Institutes of Health's National Center for Complementary and Alternative Medicine (NCCAM), Americans' spending on probiotics nearly tripled between 1994 and 2003.
Dr. Farhang Khosh says that he's not surprised at the jump. A naturopathic doctor with Natural Medicine Care, 4935 Research Park Way, Khosh has been taking probiotics himself for 16 years and recommends them to his patients, especially those who have just gone off antibiotics. Much of the research done on the microorganisms involves their use in replenishing the good bacteria lost during antibiotic treatment.
"It kills off the good bacteria in your gut and then you have to replace the good flora," says Khosh, who says taking probiotics may help women avoid post-illness yeast infections from an overgrowth of bad bacteria.
According to the NCCAM, scientists are studying whether probiotics can be used to halt or suppress the unfriendly bacteria that cause conditions such as: infectious diarrhea, irritable bowel syndrome, inflammatory bowl disease (like ulcerative colitis and Crohn's disease), tooth decay and periodontal disease, vaginal infections, children's stomach and respiratory infections, skin infections and infection with Helicobacter pylori bacterium that causes most ulcers and chronic stomach inflammation.
McLaughlin actually first learned about probiotics when fighting an ulcer caused by the aforementioned Helicobacter pylori. She began taking a probiotic during her treatment in 2003 and was amazed by the results.
"As soon as I started the probiotics, the bacteria, I went for my check and they did a blood test to check and it was gone," she says. "I've never had a problem (since)."
Khosh says that if you're considering adding probiotic foods, pills or powders to your daily routine to talk first with your health professional. Some serious side effects have been noted in some people, though the most typical side effect tend to be mild digestive problems. More serious problems include the possibility that probiotics could cause infections that need to be treated with antibiotics, unhealthy metabolic activities, too much stimulation of the immune system or even, according to the NCCAM "gene transfer" — the insertion of genetic material into a cell.
Patty Metzler, a registered dietitian with Lawrence Memorial Hospital, says that though the research on probiotics looks promising, she'd like to emphasize that while adding probiotics may seem like a smart move for some consumers, the little microorganisms aren't a panacea, and don't make up for a poor diet.
"I think we're all looking for the magic pill," she says. "If they're not eating whole grains, they're not eating fruits and vegetables, and then they're going to go out and buy a probiotic yogurt, I think they'd be best off not buying the probiotic yogurt and trying to eat more of a balanced nutrient-rich food plan."