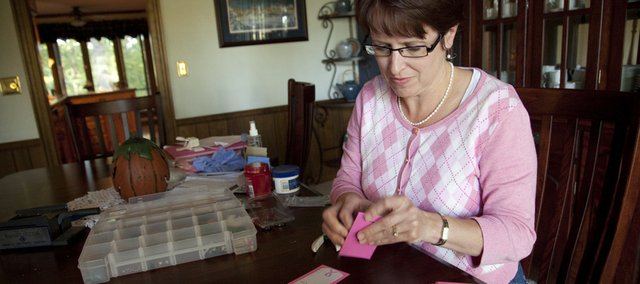 Tammy Frank of Lawrence always gets a lift from putting on a sassy pair of earrings in the morning. She's hoping to give the same boost to women enduring breast cancer treatment with her Lobes of Love earring project.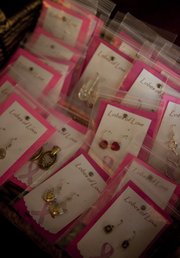 Donate to Lobes of Love
To donate to Lawrence resident Tammy Frank's Lobes of Love project, send new or gently used earrings to:
Lobes of Love
664 N. 1600 Road
Lawrence KS 66049
"It's such a double whammy when women lose their breasts to cancer and then their hair to chemo," Franks says. "It's a blow not only to their physical stamina and self-confidence, but also to their spirits."
Frank — whose mother, Karen Johnson of Fort Scott, was diagnosed with breast cancer four years ago — was looking for a unique way to help women dealing with the disease and others trying to prevent it.
Promoting her cause through e-mail, Facebook, Johnson's page on CaringBridge.org and old-fashioned word-of-mouth, Frank asked friends to donate gently used or new earrings to Lobes of Love.
She plans to collect earrings through October. Then, she'll disinfect and polish them, affix them to handmade cards and distribute them at her mother's plastic surgeon's office and at the Kansas University Cancer Center.
"At the center, they have baskets full of hats and everybody can help themselves. Then, there's the Look Good, Feel Better program, where they show you how to put makeup on. And you can get free wigs through the American Cancer Society," Franks says.
Frank hopes to accessorize patients' wigs, hats and makeup with free earrings for the taking.
"Breast cancer has been a part of our lives for so long. I thought, I've got to do something for my mom and make sure all of my friends and their loved ones are checking themselves on a monthly basis. It's so important," Frank says.
Laura Denneler, Lawrence, was one of the first people to answer the call for donations.
"I thought the idea was just great," she says. "It's not complicated but has the potential to really touch women and encourage them. It reminded me of a random act of kindness, an unexpected gift.
"It took me about two minutes to look through my jewelry and find a few pairs that I'd be glad to share with someone else," Denneler says. "I tried to pick out a variety of styles and ended up sending her four pairs."
To date, Frank has collected over 200 pairs of earrings, a response that has taken her by surprise.
"It's kind of amazing. I've gotten donations, so far, from five states, lots from people I don't even know," she says. "Several people said they are making them in batches. An elderly gentleman wins the prize for most pairs contributed, so far!"
Johnson, who hopes her daughter can collect 2,000 pairs of earrings before month's end, says the L.O.L. project fills a void.
"I'm very proud of her. It's a very good idea," she says. "I have different wigs, hairpieces that I put with my wigs, ponytails that I clip to hats. I think it's fun to look a little different every day, and having some different earrings to show off with that, too."