Jill Krebs was bedridden with back problems before she found a solution for her pain.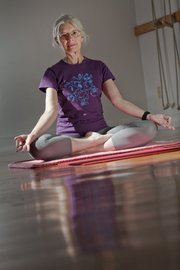 "I had a long, miserable history of musculoskeletal problems and spent more and more weeks in bed every year. I wasn't able to stand or even sit up," says Krebs, 68, co-owner of Yoga Center of Lawrence, 920 Mass.
That's difficult to imagine when you look at her and see her body stretch and bend into advanced yoga poses that would challenge women 50 years younger.
Krebs grew up in Baldwin City and Holton. She graduated from Kansas University in 1968 with a B.A. in English and almost enough credits to get a music education degree. She married in 1971.
Three children later, her lower back problems worsened. Her mobility was severely challenged.
"I consulted an orthopedic surgeon in Topeka," Krebs says. "He was an M.D., but after studying osteopathic manipulation and Dr. John Upledger's pioneering work, he modified his surgery practice. He found most of his patients needed exercise, not surgery. He was able to put me right every time I saw him, without surgical intervention."
Krebs, already an avid reader and life-long learner, read everything she could find about back problems and concluded she needed daily exercise for the rest of her life. She studied yoga books and did stretching and poses at home.
"I did rolfing, which was very helpful, but it didn't last," she says. "Then a friend suggested I take up Iyengar yoga, which emphasizes precision and alignment in all postures."
Krebs had her first official yoga lesson in 1991 and was hooked.
"It suited my personality," she says. "Health problems can challenge and inspire us. I found yoga did both of those for me and led me onto a path back to health."
Krebs continued reading extensively, learned from other practitioners, attended workshops and classes led by advanced teachers, and became a yoga teacher. She practiced with fellow yoga teacher Margaret Carr and they dreamed of establishing an Iyengar yoga community in Lawrence. They embarked on research, contacted other studio owners and started looking for suitable premises.
"In 1991 we miraculously found the near perfect room which we rented and later expanded into the current configuration," Krebs says. "Although we had done lots of research and preparation, nothing could have prepared us for how time-consuming it would be in the first year. We sacrificed more and more of our private yoga practice time until we realized how utterly counterproductive that was."
They learned how to re-balance their lives, and the center grew from strength to strength.
When Carr moved to West Virginia two years ago, Krebs and her husband, Jack, head of math and technical director for the Oskaloosa School District, bought Carr's share of the business and now operate it together.
Krebs seldom teaches now, preferring to concentrate on developing the center, attending classes and working on her own yoga practices.
"Yoga has revolutionized my life in unexpected ways," she says.
"As someone over 65, I greatly appreciate the balance, strength, stamina, flexibility, easy movement and freedom from joint pain, and inner peace, that yoga brings."