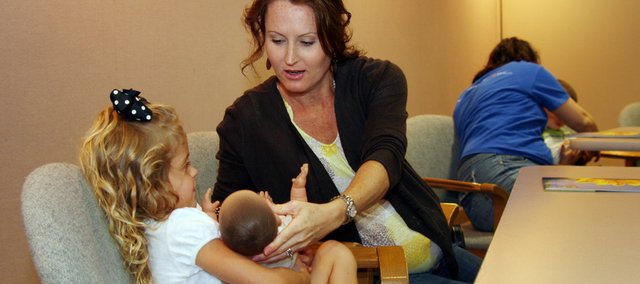 Preparing for a second child has been an adventure for Karen Cross. Her 3-year-old daughter, Anne, already has been having conversations with Cross' midsection, which holds a son due Nov. 30.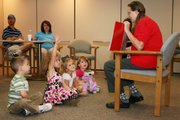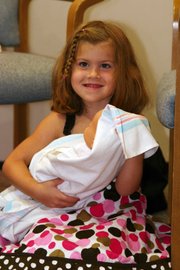 On the street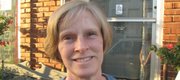 Transitional tips
Here are 10 tips for how to make the transition to a new baby easier for a young child:
• Realize age makes a big difference. Children younger than around 2 1/2 believe the world and their parents exist for them alone, so it's difficult for them to understand that love can be extended to a new baby. Three-year-olds are teetering on the age between babyhood and independence, so they may be proud or feel they're being "de-throned" as the baby in the family. Four- and 5-year-olds understand the baby is here to stay but may feel rejected. Older children may be jealous and proud at the same time. Pre-teen or adolescent children may be embarrassed about their parents having a baby or resentful of the time the baby takes up.
• Don't make major changes — such as a move to a crib to a bed, toilet training or changes in preschool — 1 to 2 months before the baby arrives. Make those changes sooner if possible.
• Allow for more "alone time" or more time with dad before the baby arrives.
• Be honest about pregnancy changes. If a mom is moody and tired, tell the child the pregnancy makes her that way.
• Involve the child in the process as much as possible, including registering for a baby shower, showing him or her pictures of developing fetuses or attending a sonogram appointment.
• Get the child used to riding in the backseat with a car seat before the baby arrives.
• Visit the hospital before the delivery. Eat at the cafeteria and visit the gift shop and waiting room so the child is already familiar.
• Let the child visit the hospital as soon as possible after the baby is born. Do the visit with only immediate family in the room. Display a picture of the child prominently bedside to remind him or her that he or she is still important in the family. Have a gift — such as a "big brother" or "big sister" T-shirt — for the child at the hospital, but don't overdo it.
• After birth, use the baby's name instead of saying "the baby" when talking about the newcomer. That humanizes the baby to the child.
• Tell stories about when the child was a baby to help him or her relate to the process of growing up.
Learn more about LMH's Tyke Hike class by calling 749-5800. The next session is Nov. 13.
— Lawrence Memorial Hospital
"She's been talking to my belly for months," Cross says of Anne. "One time she was sitting on the potty, and she starts talking to the baby: 'Baby! It's big sister! I'm pooping!'"
Cross and her husband, Jon, know the transition from a three-person to a four-person family may not always be so humorous or even easy. That's why they've been easing Anne into the idea of having a baby brother for months now.
Having a second — or third, or fourth — child is a life change that can leave some older siblings feeling jealous or even angry about their family's new addition.
"It depends a lot on the child," says Melissa Hoffman, community education specialist at Lawrence Memorial Hospital.
But Hoffman, who helps organize a class geared toward new siblings called "Tyke Hyke," says having a plan to ease the transition can help both parents and the older sibling involved in the equation.
It starts with how early to tell a child he or she is going to have a new brother or sister. Hoffman recommends waiting until somewhere midway through the pregnancy.
"I think parents make that decision based on knowing their own child," she says. "One of the biggest things is that excitement. Nine months is a long time to wait, so sometimes there is a benefit of waiting until it's obvious something is changing," like when an expectant mother begins to show.
Hoffman says the age of the child helps determine how much to involve him or her in the process. For older children — around 4 and up, give or take — taking them to sonogram appointments or to buy baby items might be enough to get them excited.
That's been the case for the Crosses, who took Anne to a sonogram appointment. But that one backfired.
"She came to the sonogram with us," Karen Cross says. "When she realized she wasn't allowed to play with the buttons on the screen, she melted."
Keeping the connection
Still, the Crosses have found ways to make the transition work — so far.
They moved Anne into her new room — a former guest room — over the summer, so it didn't seem like the new baby was kicking her out of the room she's been in since she was a baby herself.
Cross says she's already noticed some changes in her daughter, even with the baby's arrival more than a month away.
"She's been a lot more concerned about me in the last month or so, as I've gotten bigger," she says. "She also seems to be a little more clingy."
After the baby boy is born, Cross and her husband plan to still make time specifically for Anne — a plan Hoffman says is key during the transition. Anne is involved in a music class and gymnastics, and those times will be set aside to spend time with her.
Cross says she recently wrote a letter to Anne, which she'll give to her when she's older. She says her daughter is remarkable and she cherishes the relationship she has with her.
"I don't want to lose that just because there's a baby around," she says.
After arrival
Hoffman says the first introduction between baby and sibling will make a big impact.
"Everybody does that a little different," she says. "I recommend making a point of having the baby in a bassinet. And at some point saying, 'Do you want to meet so-and-so?' And then making it a point to go over and say hi to the baby."
That might be less dramatic than having the older child walk in and seeing the baby in mom's arms for the first time.
Hoffman says some regression in behavior can be expected in some children. Some become aggressive, some who are potty-trained fall back into their old habits, and others just want to be near mom more.
And even if an older sibling handles the transition well at first, parents can expect there might be some reaction down the road.
"Again, it depends a lot on the child, but some children have a really easy transition to having a new sibling. They have more of the excitement and joy, and parents might think, 'This is great,'" Hoffman says. "Then their behavior changes later, when baby becomes more mobile and is touching their things. Then they start thinking, 'I don't know if I like the baby.'"
Early education
On a recent Tyke Hyke class at LMH, where five youngsters got to see newborn babies, delivery and recovery rooms and learned how to hold a baby, change a diaper and swaddle a baby, the excitement about the future months was easy to see.
Jolie Mcwhirt, 5, was among those who were busy with dolls learning the basics. Asked what she planned to do with her baby sister, she was quick to reply: "Hold her."
"And she wants to change her poopy diapers," her mother, Christy Mcwhirt, said with a playful grin.
"Nooooo, mommy," Jolie responded.
Jolie already has helped her mom pack a bag for when she goes to the hospital, which is planned for Nov. 19.
"She's really excited now that she knows it's a sister," Christy Mcwhirt says. "If it had been a boy, I'm not so sure."
One of the class' participants, Evan Torres, couldn't contain his excitement. Walking through the halls of the maternity ward, he looked up at a nurse walking by and exclaimed: "My mom's having a baby sister! And I'm going to be a big brother!"