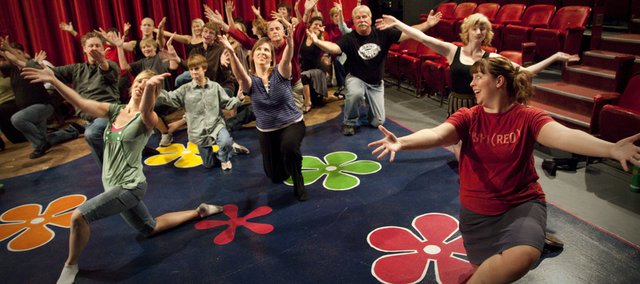 Originally published October 18, 2010 at 9:51 a.m., updated October 18, 2010 at 4:53 p.m.
About the Mabee Foundation
The J.E. and L.E. Mabee Foundation provides grants to private and non-profit organizations in Kansas, Arkansas, Missouri, New Mexico, Oklahoma and Texas.
The Tulsa-based organization was founded in 1948 by John and Lottie Mabee, who made a fortune in the oil business. The couple, who had no children, left the bulk of their estate to the foundation. Since 2003, the foundation has given more than $640 million to charitable causes in the six-state area, according to the foundation's Web site.
Call it an encore performance.
After awarding $540,000 to a Lawrence homeless shelter project last week, the Tulsa-based Mabee Foundation has issued a $497,600 grant to help fund a new community theater project in west Lawrence.
Leaders with Theatre Lawrence — formerly known as the Lawrence Community Theatre — announced Monday that their project to build a $6.2 million, 300-seat theater near Sixth Street and Wakarusa Drive had received a major boost from the foundation.
"It is just hard to explain how thrilled we are," said Mary Doveton, executive director of the theater. "It is just overwhelming that they would have such confidence in our community and our project."
The grant now raises the theater's fundraising total to $4.2 million. Under the terms of the Mabee grant, the theater must raise the remaining $2 million for the project by September 2011.
Doveton said she's optimistic the theater will meet its fundraising goals.
"It is just amazing how positive people have been since we've announced our plans," Doveton said.
In September the theater announced plans to build a new theater to replace its longtime home in a former church building at 1501 N.H. Plans call for the new theater to essentially double its seating capacity, increase off-street parking by about 130 spaces, and add a children's education wing to support the theater's growing youth program.
The theater hopes to break ground on the facility, which would be located on property in front of Free State High, by fall 2011.
Monday's grant announcement comes after the Lawrence Community Shelter announced on Friday it received a $540,000 grant from the Mabee Foundation for its project to renovate an east Lawrence warehouse and turn it into a new homeless shelter.