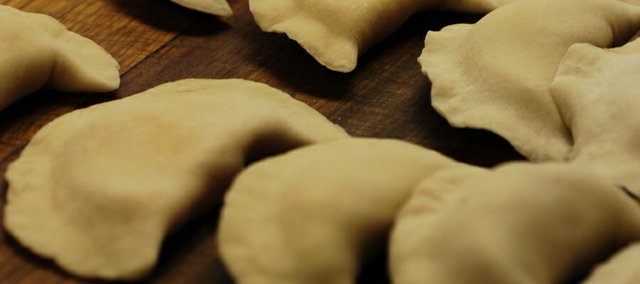 Tuesday, October 19, 2010
Photo Gallery
Pierogies — Ravioli's Polish cousin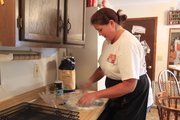 Want a pierogi fix?
Those Polish Thingies
ThosePolishThingies@gmail.com, or Facebook, or 693-0106
Pieroguys Pierogies
www.pieroguys.com, 816-252-1575
When starting her very own food production business a few months ago, Caroline Wroczynski had a bit of a marketing problem.
Her product isn't new, but it isn't mainstream. It isn't common, but it's got a common feel. And, more than anything, its moniker is hard to say, spell and apparently to remember, as Wroczynski learned from a friend who'd been charged with the task of taste-testing her products.
"He could never remember what they were called. It was like he couldn't spell them, he couldn't pronounce them," says Wroczynski, laughing. "He was just like, 'Those Polish thingies ... those things.' And I'm like, 'Yeah, yeah, I know, the pierogies?' He's like, 'Yeah, yeah, those.'"
And thus, Wroczynski's new business, Those Polish Thingies, was born in July, with the goal of bringing pierogies to Lawrence dinner tables.
A pierogi is a Polish dumpling stuffed with savory fillings, making them the D-shaped cousins of the Italian ravioli and the Spanish empañada. Fillings can run the gamut — the most traditional is a potato base — but Those Polish Thingies has made everything from "taco" and "cheeseburger" pierogies to seasonal desserts like blueberry in the summer and pumpkin in the fall.
They can be baked, fried or microwaved and served with sour cream, butter, bread crumbs, and anything in between. They can be breakfast, lunch and dinner, and they can be the main course, side or dessert of that main meal.
Pierogies by the millions
They're so versatile, in fact, that it almost works against them, just like the difficult-to-pronounce name (it's peer-ro-gie, by the way).
"To describe pierogies, I use some hand gestures and use words like 'pastry' and 'yummy fillings,'" jokes Bailey Dereus, a Those Polish Thingies customer who hadn't tried pierogies until this summer.
The pastry's elusive nature even inspired Pieroguys Pierogies to coin the slogan: "We're our own food group."
That kind of tongue-in-cheek treatment of the food with a funny name has been good to Pieroguys, which originated in Lawrence by college buddies Frank Gazella and Andrew Misak in 2007. The original Pieroguys has since moved to Kansas City's River Market.
In three years, the former Kansas University students have grown their company so much that a hungry grocery shopper can now find Pieroguys products in eight states. Gazella says Pieroguys is now the second-largest pierogi maker in the United States behind Mrs. T's Pierogies, which churns out 11.4 million pierogies per week in the tiny town of Shenandoah, Pa., about 80 miles south of Carbondale, where Gazella grew up.
Despite Mrs. T's millions of pierogies, the pockets still aren't as recognizable as, say, ravioli, and Gazella says he hopes to change that with a pierogi restaurant chain.
"What we've been doing for several months is developing a cafe concept, that's real basic, kind of like Chipotle-style," Gazella says. "Where you just come in, you get your pierogies, you get your sauce, you get your drink, and you can either sit in or take out. And hopefully in the future, we can develop that and franchise it out because there's no pierogi franchises anywhere in the country. In the world."
Catering for flavor
From her kitchen, Wroczynski isn't thinking about world domination, though she admits she would like to grow her business big enough to at least make a living as a pierogi producer. She sold the pierogies at the farmers' markets in De Soto and Perry and at the Cottin's Farmers' Market in Lawrence. While at the markets, she started buying farm-raised eggs and free-range chicken and beef for her pierogies. She's catered to special requests from customers, making special combinations and even creating a line of vegan pierogies, inspired by her friend and customer Barbara Shaurette.
"The next thing I knew, she had come up with her own new dough recipe and started making these wonderful treats for me," says Shaurette, who doesn't eat any animal by-products. "Well, OK, they are not just for me, but I was so excited to be able to eat this tasty dish that I had not been able to try in so many years. They are the best pierogies I've ever had — nothing beats homemade."
Wroczynski is banking on that homemade taste to keep business coming in now that market season is over and she's limited to special orders and figuring out how to get her production levels up enough to, like Pieroguys, bring pierogies to the masses, one flavorful bite at a time.
"Putting it in the stores would be fun, I know it's a lot of work with the certifications for the state and the packaging," she says. "But since I like making things for people, just being able to make them fresh for them sometimes would be nice, too."