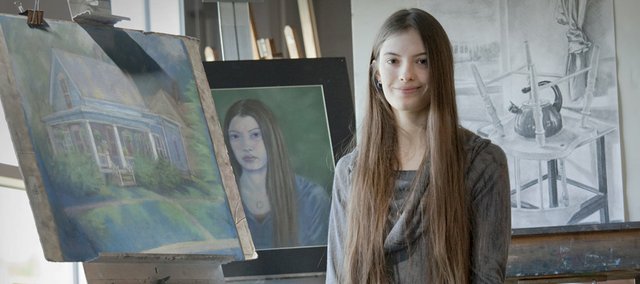 Tuesday, October 19, 2010
Free State High School senior Hanna Marie Angelone is not the kind of student you will find cheerleading on the sidelines, nor is she the star athlete headed to the state championship.
She doesn't play sports and is not interested in any extracurricular activity unless it involves paint, a brush and an easel.
"I'm a quieter person, a shy person. I don't make that much of a point to stand out," says Angelone.
But one thing about this 17-year-old that clearly attracts attention is her artwork. Angelone is a Journal-World/6News Art Star.
Angelone has more than two dozen pieces in her portfolio, and while she may not express herself verbally, teachers say her work reveals she is conscious of who she is and what she wants out of life. She started painting in ninth grade.
"When I see something that inspires me or sparks my imagination, I don't want to just keep it inside, I want to share it with people so they can see how I think or how I feel," Angelone says. "You have to be willing to mess up and not worry about what someone is going to think when they look at it."
Angelone beat out hundreds of applicants across the nation to become one of 60 students chosen to participate in last summer's Marie Walsh Sharpe art program in Colorado Springs. Upon graduation she hopes to attend Art Center College of Design in Pasadena, Calif., or Kansas City Art Institute and become a concept artist developing characters for video games and movies.
"I think she is the right kind of student for it because she is so involved in her art," says her art teacher, Carolyn Berry. "She is the kind of student who will really dive into an art school program and even find out she has a lot more skills than she even has now."
Angelone takes three hours of art electives — Advance Placement Studio, Drawing and Painting and Portfolio — and spends many hours outside of school working on her craft.
"The stuff I want to do requires a lot of practice, not necessarily making art, but practice," she says. "I'm learning how to do digital, painting on a tablet and painting on the computer."
— Reporter Theo Hayes can be reached at 832-6310.