Tuesday, October 19, 2010
Parents are invited once again to pack up the kids — the ghouls, the goblins, the princesses, the Lady GaGas — and head downtown for wholesome and productive trick-or-treating, before heading back home for after-dark roaming in accordance with all the regular rules: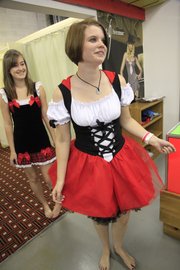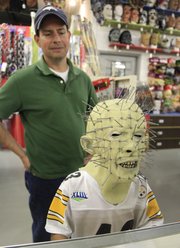 Top 10 costumes
Here are the most popular
Halloween costumes this season, according to a survey of 9,291 Americans conducted for the National Retail Federation:
For children: 1. Princess. 2. Spider-Man. 3. Witch. 4. Pirate. 5. Disney princess. 6. Action/super hero. 7. Ghost. 8. (tie) Pumpkin, vampire. 10. Batman.
For adults: 1. Witch. 2. Vampire. 3. Pirate. 4. Nurse. 5. Wench/tart/vixen. 6. Cat. 7. Zombie. 8. Fairy. 9. (tie) Athlete, Batman.
For pets: 1. Pumpkin. 2. Devil. 3. Witch. 4. Hot dog. 5. (tie) Bee, cat. 7. Dog. 8. Superdog/cat. 9. Ghost. 10. Pirate.
• Wear unrestrictive clothing.
• Retain proper vision.
• Stay in familiar areas, visiting only homes with their lights on.
And always — always — be careful.
"We need to be vigilant," said John Drees, coordinator for Safe Kids Douglas County. "We need to be aware."
To help keep the real-life scary out of one of the country's most boisterous holidays — Americans plan to spend $5.8 billion on costumes, candy and decorations, according to the National Retail Federation — plenty of folks in Lawrence are organizing free activities that offer safety and security, often in conjunction with fun and games.
First up: Halloween Paint-In, organized by Lawrence Parks & Recreation.
Anyone wanting to paint a Halloween scene on a Massachusetts Street window — a family-friendly artistic vision, not vandal-minded graffiti — may submit a sketch to organizer Duane Peterson, who in turn can set you up with a glass canvas and all the wash-off paint you'll need.
Approved participants can be anyone from the third grade and up, and each will receive a T-shirt. Painting commences from 8 a.m. to noon Saturday.
"It's a family-friendly event," Peterson said.
The registration deadline is 6:30 p.m. Thursday. Drop off drawings and contact information at the Holcom Park Recreation Center, 2700 W. 27th St.
Next: Halloween in the Halls, sponsored by Kansas University's Department of Student Housing.
The KU event runs from 6 p.m. to 8 p.m. this Sunday atop Daisy Hill, home to the bulk of KU's residence halls. There will be a kid-friendly haunted house at Hashinger Hall, a carnival at Ellsworth Hall and plenty of trick-or-treating at Lewis, Templin and McCollum halls.
Kids should be accompanied by an adult. And look online for a special "Beak 'Em Hawks" pumpkin stencil at funstuff.ku.edu/stencils.shtml.
And don't forget Halloween itself, Oct. 31.
Downtown merchants once again will welcome trick-or-treaters from 5 p.m. to 7 p.m., as the kiddos can stop by the estimated 50 or so stores expected to hand out candy between Seventh and 10th streets.
"It's a great family atmosphere," said Jane Pennington, director of Downtown Lawrence Inc. "And there's still plenty of time to get home and make other visits."
Oh yes, that: The official hours for "Halloween Beggars Night" will be from 6:30 p.m. to 8:30 p.m. Oct. 31, with homeowners asked to turn on their porch lights during that time to assist costumed youths.