Wednesday, October 20, 2010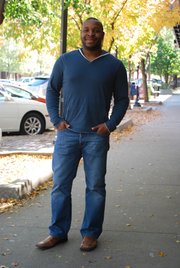 Age: 28
Sign: Scorpio
Hometown: Florissant, Mo.
Time in Lawrence: 1 year and 1 month, and I love it.
Occupation: I'm a perpetual grad student with a marketing job.
What were you doing when you were scouted? Halloween shopping downtown.
How would you describe your style? Casual-sophisticate.
What are your current favorite fashion trends? Layering jackets and long-sleeves in the fall, Italian-cut shirts with a flattering fit and military-inspired outerwear.
What are your least favorite fashion trends? Anything too over-the-top. You can be stylish and subtle.
What would you like to see more of in Lawrence? A men's shoe store with a modern selection of footwear.
What would you like to see less of in Lawrence? I love that people in Lawrence have individual, unique styles, but I'd like to see people dressing more true to their selves instead of being so extreme.
Do you have any fashion influences? I am drawn towards European fits and styles that are a bit dressier. I look for clothing by designers that focus on smaller details, a more refined design.
People say I look like… the actor from "Save the Last Dance," Sean Patrick Thomas. That's what I get the most, but I don't know that I agree.
Tell us a secret: My favorite TV show is "Judge Judy." I have a place in my heart for all things law-oriented, no matter the level.