Wednesday, October 20, 2010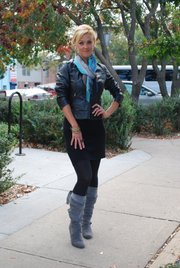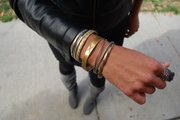 Age: 27
Sign: Gemini
Hometown: Juneau, Alaska
Time in Lawrence: about 3 1/2 years
Occupation: student, teacher, and waitress
What were you doing when you were scouted? Meeting a friend at WheatFields for coffee.
How would you describe your style? I don't think about what I wear enough to call it a conscious style. I wear whatever's closest to the door.
What are your current favorite fashion trends? Recycled clothes and natural materials, reusing clothing and creating something new out of something old.
What are your least favorite fashion trends? Unoriginal American sloppiness and poorly made items that become a uniform of sorts.
What would you like to see more of in Lawrence? I'd like to see more time for naps and tea during the day, more gardens and more natural spaces.
What would you like to see less of in Lawrence? Cars, consumption and people in a hurry.
Do you have any fashion influences? Same as everyone … I like Lou Doillon and Francoise Hardy. Growing up my dad had a thing for Jean Seberg, so I imprinted on that. I also really like Haider Ackermann, who makes crazy leather.
Do you have any piercings or tattoos? Yes
People say I look like … I get that I remind people of someone, but they can never really put their finger on it.
Tell us a secret: When I was little, my mom had a toy store called the Red Balloon, and I used to play "dress-up" in costumes every day. My secret is that I sometimes still do.