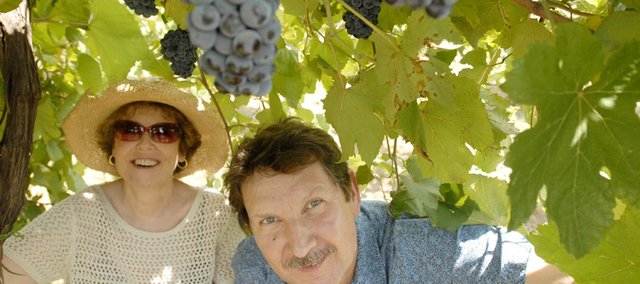 Late October is prime time to take a self-guided tour of the wine country. The grapes have been harvested, but leaves on the vines are often brilliant colors, just like the trees accenting the landscape.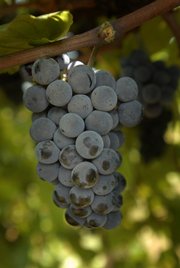 If a trip to Italy, France or California isn't in the offing, northeast Kansas offers enough quality vineyards for local oenophiles to enjoy a glorious day of sightseeing and sipping.
And, bonus! Kansas wineries are prohibited by law from charging tasting fees. Just remember to appoint a designated driver before your first stop.
If you want to stay close to home, Eudora offers two vineyards for an easy mini-tour:
Davenport Orchards and Winery
1394 E. 1900 Road , Eudora
Hours of operation:
Monday: 4 p.m.-7 p.m.
Wednesday: 4 p.m.-7 p.m.
Friday: 4 p.m.-7 p.m.
Saturday: 1 p.m.-5 p.m.
Sunday: 1 p.m.-5 p.m.
(785) 542-2278
www.davenportwinery.com
Owner Greg Davenport says his customers often bring picnic lunches to enjoy with friends — and a bottle of wine, of course — in the vineyard.
Wines offered at Davenport include sweet fruit wines like Bonne Pomme from Jonathan apples and dry red grape wines like Boujy Noveaulo and Rusian.
"We planted our first grapes 20 years ago, and people are still discovering us," he says. "And, a lot of people are quite surprised. In Napa Valley, for instance, they're all making very similar wines. When you go to one, you taste something similar to the other. We use a lot of the French hybrid grapes that taste different. We've got 21 different varieties, and I make 40 different wines. I think there's about 12 available right now."
BlueJacket Crossing Vineyard and Winery
1969 N. 1250 Road, Eudora
Hours of operation:
Wednesday-Friday: Noon to 6 p.m.
Saturday: 10 a.m. to 6 p.m.
Sunday: Noon to 6 p.m. or by appointment
(785) 542-1764
www.bluejacketwinery.com
Pep Solberg-Selvan, owner of BlueJacket, says his relatively new winery is seeing a surge in visitors, thanks to mild, sunny weather lately.
"In the three years we've had the tasting room open, this is the first year we've had a true Indian summer," he says. "Past years have been cold and wet. People are just looking for an opportunity to go out and enjoy that. The last month has just been crazy in terms of people using our patio for a picnic area."
BlueJacket serves up white wines such as Seyval Reserve and Vignoles Off Dry and red wines including Prairie Red and Vin D'Une Nuit.
"It's been such a mild season, there is another crop of grapes trying to grow," Solberg-Selvan says. "They'll never mature, but this last weekend, we had a family with four children out here for four hours, and they were running all around the vineyard."
Feeling a little more adventurous? Try these two wineries a little farther from home, but less than 40 minutes from Lawrence:
Stone Pillar Vineyard and Winery
11000 S. Woodland Road, (College Boulevard and Woodland Road) Olathe
Hours of operation:
Friday, Saturday and Sunday: Noon-6 p.m.
(913) 530-7407
www.stonepillarvineyard.com
Nestled on a 12-acre hillside, Stone Pillar is a newcomer to the northeast Kansas viticulture scene, having bottled their first vintages in May.
Owner George Hoff grows Old World French vines as well as French-American hybrids in his vineyard on his great-great grandfather's homestead.
"It was purchased by Frederick Hoff in 1864," he says. "He came here from Germany and, before he bought the property, ran the general store in Olathe. During all the turmoil at that time — the raids, and everything — his store got burned down and he moved out to what he considered the country. He was the first man in Johnson County to brew and sell beer. So, it's kind of a heritage our family has."
Hofftoberfest, the winery's fall festival, continues through the month with live music on weekends, a pumpkin patch and extended hours (noon to 7 p.m.) on Fridays and Saturdays.
Holy-Field Winery and Vineyard
18807 158th St., Basehor
Hours of operation:
Monday-Friday: 10 a.m.-6 p.m.
Saturday: 9:30 a.m.-6 p.m.
Sunday: Noon-6 p.m.
(913) 724-9463
www.holyfieldwinery.com
Among the best-known Kansas wineries, Holy-Field is a father-daughter operation that provides visitors an authentic farming experience and a comfortable tasting room and gift shop.
"We're a hundred percent local," says Mandy Hampton, Holy-Field manager. "We grow everything here on the property, do everything on the property. It's a chance to discuss agritourism on the primary level. It all starts and finishes here."
At maximum inventory, the winery offers 15 or 16 wines to taste — including Over the Rainbow Raspberry, Yogi-Berry Blackberry and Late Harvest Vignoles — but Hampton doesn't recommend sampling them all.
"It's best to keep it around six or so," she says, "because, after that, the palate becomes overexposed."
Special events such as a cork crafting class and ladies' night are planned for November. See their website for details.
Still haven't had your fill? Try these other Kansas operations, near and far:
Kugler's Vineyard
1235 N. 1000 Road, Lawrence
843-8516
www.kuglersvineyard.com
A small family-owned vineyard of varieties including Concord, Niagara, Seyval Blanc, Vidal Blanc and Cynthiana (Norton). Private tours and tastings by appointment.
Jefferson Hill Bed & Breakfast, Winery and Vineyard
12381 Washington Road, McLouth
(9130 796-6065
www.jeffersonhillvineyard.com
A 1920s dairy reborn as Kansas' first bed and breakfast winery. Selections include Catawba, Jefferson Red, Rosa and Indian Summer. Tasting and tours by appointment.
Somerset Ridge Vineyard and Winery
29725 Somerset Road, Somerset
Hours:
Wednesday-Saturday: 11 a.m.-5 p.m.
Sunday: Noon-5 p.m.
(913) 491-0038
www.somersetridge.com
Offering Chardonnay, Chardonel, Traminette, Cabernet Doré, Cabernet Sauvignon, Cabernet Franc, Chambourcin and others.