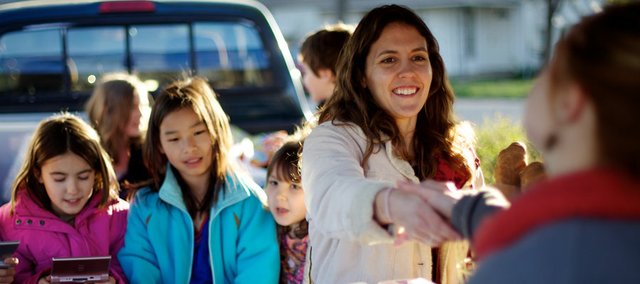 Photo Gallery
Farms run by women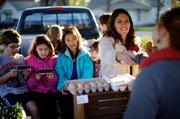 A look at a few local women who are among the more than a million farm operators in this country who are female.
At Megan Paisley's stand at the Lawrence Farmers' Market, it's pretty easy to get a glimpse of the future.
Paisley's two daughters, Josie and Julia, gladly help out customers and smile right along with their mom, who sells fruits, veggies, canned goods, baked goods and soaps.
"I call Josie my business partner. She really helps run it," Paisley says of her older daughter, 10. "And I can give her a to-do list and she's like a little employee — she gets paid and she can go out and do everything. At market, she can run the stand by herself. She can explain things, she knows all the prices, she knows how things grow. And Julia is the same way."
It's a good thing the girls are learning the ropes. And not just because they are the initials behind Paisley's Double J Farm logo. More and more women are running America's farms.
According to the USDA's 2007 Census of Agriculture, more than 1 million farmers in the United States — about 30 percent — were women. Those numbers are the most recent, but the Kansas Rural Center's Dan Nagengast says he wouldn't be surprised if that number were much higher these days.
"There's an increasing number of women, that's pretty clear," says Nagengast, who says the numbers are even greater when interest in sustainable agriculture is factored in. "I think women have the potential to really change agriculture."
In and around Lawrence, it's obvious several women are set on doing just that, either within a traditional husband-wife partnership or by themselves. The farms range from Stephanie Thomas' vegetable-centric Spring Creek Farm, to hybrid veggie and livestock operations such as Barbara Clark's Maggie's Farm to even larger livestock producers like Debbie Yarnell's Homespun Hill Farm. And the number of female-run farms has been multiplying nationwide — there was a 19 percent increase of female farm operators between 2002 and 2007.
Those numbers just gobsmack Natalya Lowther, who says when she first got into farming as a teen, she might as well have confined herself to a commune in the woods.
"You know, I had the dream back then that people are having en masse now," says Lowther, who operates Lawrence's Pinwheel Farm. "It's really exciting to look back and say, I had a vision 30 years ago that was an important vision and it's coming to be the reality in the world around me."
But there are challenges to going first and Lowther will be the first to tell you she's had her fair share. She's had financiers tell her she couldn't put "farmer" as an occupation for a business loan. She's had farm service providers not take her seriously. And then there's the scale of farming she and many of the other women around Lawrence are doing. Nagengast says that women are more likely to head small, sustainable or organic farms — enterprises that are about as common as the women who run them.
Jill Elmers of Lawrence's Moon on the Meadow Farm puts it this way: "There's still an old boys' club, in terms of, especially when you look at commodity farmers and that kind of thing. You know, I mean, they think what we're doing is crazy anyway and then when they see that a woman is doing it, they're like 'Oh my God, that's really crazy.'"
She laughs as she says this, but she admits that being in a boys' club is one of her biggest challenges.
"It has been predominantly a male-oriented career, it's a lot like engineering and that kind of thing where people just aren't used to having women in that arena," says Elmers, who happens to have a degree in engineering. "And so sometimes we have to sort of prove ourselves before we get any respect, if you will."
But there are also challenges of other stripes to being a woman in a man's world. The biggest of which are fixing broken machinery and performing certain physical tasks.
"When I'm trying to give medicine to a Boer goat, to a buck, he's pretty big, so we have to wrangle him. We have a chute that we can put him up in and do it that way, but when my dad was doing this he would just grab him," says Jess Pierson, who runs Red Tractor Farm with Jen Humphrey. "You learn how to work little bit maybe smarter instead of harder because you don't really have the brute physical force."
And that's what Paisley loves teaching her daughters, customers and wannabe farmers. The petite, 5-foot-4 mom is, in a way, a walking advertisement for the fact that women today, and tomorrow, can produce America's food.
"I think more and more women are realizing that it doesn't take, you know, brawn to do this. It's more brains. Not that guys are dumb," she says, laughing. "But you don't need to be 6-foot tall and 200 pounds to do this."