Saturday, October 23, 2010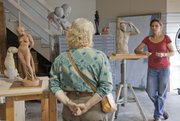 A little girl greeted visitors as they entered into Lori Norwood's North Lawrence studio today for the Lawrence ArtWalk. The life-size girl is her daughter and is only one of the many human-form sculptures scattered throughout her studio.
Norwood joined nearly 50 other local artists today who opened their homes and studios as part of the 2010 Lawrence ArtWalk. Unlike other local art events, the ArtWalk allows members of the public to visit the actual homes of local artists and see where the creative process takes place instead of in a gallery or similar display. Visitors also have a chance to meet, critique and ask questions to the artists themselves in a more personable setting.
Mapping out the ArtWalk
The ArtWalk continues Sunday from noon to 6 p.m.
Guide maps are available at select locations, including Lawrence Arts Center, 940 N.H., and The Community Mercantile, 901 Iowa. For more information about featured artists and venues, visit lawrenceartwalk.org or call 865-4254.
Norwood, participating for the first time, said what she liked most about the ArtWalk was her ability to set up her work as she wants it and be her own curator, which is not always possible in galleries. She said she also enjoyed the opportunity to visit and interact with the public and allow them to get to know her and her work in a casual, engaging way.
"We get to see the artist in their natural environment and learn information, ask questions and interact in a way we couldn't do normally," said Janice Melland, one of Norwood's visitors. "The atmosphere is much more organic."
The ArtWalk will continue Sunday from noon to 6 p.m.
The artists are spread throughout the city and cover a wide variety of media, including ceramics, drawing, jewelry, painting, photography and mixed media.
Malissa Martin-Wilke works in encaustic painting, which combines a mixture of beeswax, resin as a hardening agent and pigment. Martin-Wilke said she is drawn to the medium because of the freedom it affords her.
"There isn't anything I can't do," Martin-Wilke said. "It's very free and liberating and allows me to work without limitations."
This is Martin-Wilke's fourth time participating in the ArtWalk, and she has a simple goal in mind. She wants people to interact with her art and for it to inspire them to be creative. She said their experience is just as rewarding for her as it is for them.
"My work isn't finished until it is viewed," Martin-Wilke said. "It's not just about making art, it's about completing the cycle."