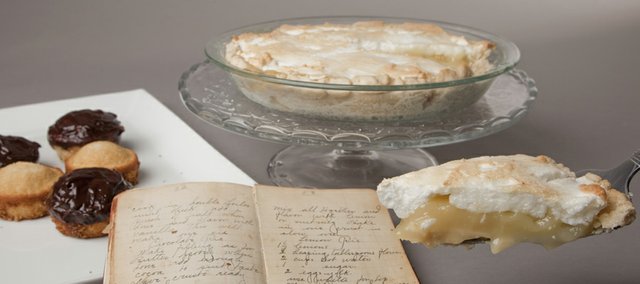 When my great-grandma Opal died about a year and a half ago, one of the things we found while sorting through her stuff was a handwritten recipe book dated June 25, 1926.
I think it might have been given to her when she married my great-grandpa.
The book seems well-loved.
It's small, red, well-worn. The cover and the spine are falling off. There are spots on the pages, which I like to think are spill spots. I do that all the time to recipes.
It's highly organized. There are 13 sections, starting with sandwich fillings and ending with puddings. Each page is numbered. There is a table of contents. She labeled many of the recipes with whom she got it from. And there are even blank pages between the sections to add more.
On the second-to-last page, there's a recipe for wallpaper cleaner. That didn't make it into the table of contents, I guess.
I love having this piece of my great-grandma, who we called Grandma Opie. Seeing the recipe for custard and all the recipes for pickles makes me think of how much food she always made for us. She gardened. She canned. She cooked. I ate a lot of custard and a lot of sweet pickles when we would visit. Separately, of course.
We used to drive the 3 1/2 hours to their house and farm in Holliday, Mo., at least once every summer when I was growing up.
We spent a lot of our time fishing in their pond. I learned the art of fishing for catfish there. I learned to bait my own hook with liver. That's the only thing I would touch. I learned how to cast my own pole. I also learned it takes a lot of patience to fish for catfish. That's why I always ended up fishing off the dock and settling for blue gill.
It's funny. We'd wait for hours to get a nibble from a catfish. And then we'd get ready to leave and my great-grandma would open the metal trash can by the dock and bang on the lid, and the fish would come racing up to the surface around the dock. They knew it was time to eat. Then we'd get to help her throw them their food, which just looked like dog food. It was a lot like feeding your pet goldfish, except in a pond.
Well, son of a gun. She'd always say.
The farm and her house have been sold now, but I still have this connection to her. I love having family recipes. Some of the recipes have names of people that I don't recognize on them, which I assume are friends. But some of them have her name on them or her mom's or even her grandma's. Just think. That's my great-great-great grandma. I think it's pretty cool to have their recipes.
Recently, I've decided to try to make some of the recipes. Some are more complete than others. Some look more appetizing than others. I started with her lemon pie filling, which actually wasn't that lemony, and her recipe for jolly jumpers, which I chose merely for the name. The recipe is listed under the cookie section, but they turned out a lot like pound-cake cupcakes.
So here are the recipes, with my additions and comments in parentheses.
And here is my disclaimer. As far as I know these are family recipes or recipes from her friends. But if you ever seen the episode of "Friends" with Phoebe's grandma's cookies, you'll remember how Monica spends hours trying to recreate Phoebe's grandma's cookies. It turns out, the recipe is just from Nestle Toll House. So as far as I know, these are not from Nestle.
Grandma Opie's Lemon Pie Filling
1 1/2 lemons (I squeezed a half a lemon in the filling, too, but it still wasn't super lemony.)
2 heaping tablespoons flour
2 cups hot water
1 cup sugar
2 egg yolks
Use whites for top
Mix flour and sugar together. Then add water. To this add the well-beaten yolks of eggs and grated lemon. Cook in double boiler until thick. (I ended up taking it off the double boiler and putting it on direct heat because I got impatient. Then I added a little bit of cornstarch to help it thicken a bit.)
Grandma Opie's Jolly Jumpers
1 cup white sugar
1/4 cup lard (I used butter)
1/2 cup milk
1 cup hard wheat flour (I used all-purpose flour)
1 teaspoon baking powder sifted with flour (I didn't sift. I'll be honest.)
2 whole eggs well-beaten
1/4 teaspoon vanilla
Cream lard and sugar. Add milk, flour, eggs and vanilla. Bake in muffin rings. This will make one dozen. It can also be baked as layer cake. (I baked the batter in my muffin/cupcake pan. Then I made ganache to dip them in.)