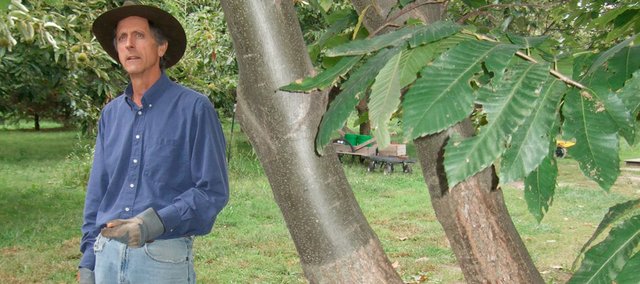 Justin Dett's goal, after finishing college, is to start his own farm.
He doesn't want to start just any farm, though. The Park University student wants to use the principles of permaculture that he's been learning from Steve Moring, one of the area's most experienced permaculture farmers.
Dett moved to Moring's Vajra Farm last summer to stay and to work on the farm. Dett didn't get paid, but Moring provided him with mentoring, room and board in exchange for his work.
"They don't really offer this stuff at traditional universities," Dett says. Plus, at the university, "you don't really get to practice what you learn."
Dett's interest is part of a larger trend in the farming industry. Last year, the U.S. Department of Agriculture offered grants to farmers and ranchers who focus on sustainable, alternative methods of farming. Moring, of Oskaloosa, and his partners were one of the recipients of the $17,926, two-year grant.
Permaculture, a portmanteau word combining permanent and agriculture, was pioneered in less developed countries and focused on sustainable ways of using the land that won't negatively impact future generations. The changes can be both big and small.
Some of the largest include altering the land to make the best use of natural resources, for example, by digging ditches and swales — large burms that catch water and help with gradual irrigation. They also integrate nitrogen-fixing plants where needed or plant berries around the base of larger trees to protect the tree from encroaching grasses and provide needed fertilizer when the berries fall. More simply, permaculture tactics include planting a small garden by your home containing herbs and other frequently harvested items, and then having orchards and larger gardens further from the house.
"Permaculture can be what you do in your own backyard or on a large-scale farm," Moring says.
Moring's background is in biology and ecology. He moved to California and attended a conference for environmentalists in the 1970s.
"All of these issues really concerned me," he says about current farming methods.

"It wasn't clear to me that that was permaculture, but permaculture melded right into it," Moring says about the way he built his farm more than 15 years ago.
Steve Moring and the Kaw Permaculture Collaborative are using the grant money to promote sustainable farming methods. Charlie NovoGradac and his wife, Deborah Milks, of Chestnut Charlie's Organic Tree Crops, and Maryam Hjersted of Prairie Lovesong Farm, are using the grant to develop their farms into permaculture models and teach those ideas to the public.
Each farm is in a different stage of development. Chestnut Charlie's is a mature orchard of nut and pawpaw trees. NovoGradac and Milks started their orchard more than 15 years ago and have long practiced sustainable methods. The orchard, which predates the organized permaculture movement, incorporates many of its elements. Trees and scrubs around the orchard perimeter function as windbreaks, and nitrogen-fixing plants nourish nut trees.
At Vajra Farm, Moring is incorporating permaculture practices to his established farm. He has ripped out plants and added several gardens, including a medicinal garden and a food forest. The medicinal garden has medicinal herbs and plants with areas for meditation integrated into it. His food forest consists of fruit and nut trees, as well as natural burms created by trees that were cut down and left to become compost.
Prairie Lovesong Farm is undergoing the most dramatic change. Since the grant, the farm has been built from scratch, Moring says. The grant has allowed the collaborative to hire workers and heavy equipment to reshape the land. The project is still in its early stages.
Right now, most of the farms require labor-intensive maintenance and a lot of nitrogen-fixing plants to become established. Moring says he currently spends 15 hours each week on his own farm. Moring says eventually he should only have to perhaps trim the plants as they grow and harvest the food. The nitrogen-fixing plants will be slowly replaced with more edible plants.
The interest in permaculture is increasing locally. The collaborative has an active listserv of approximately 130 local farmers and enthusiasts. Moring teaches classes and offers a 72-hour certification in permaculture that is internationally recognized. The grant has also allowed Moring to design a website, lease spaces for classes and pay for other projectors and teaching equipment.
One of Moring's students in the certification program, Lora Zell, of Lawrence, decided last year to make sustainable, organic, edible landscaping her profession.
"That's what I've been practicing at my own house for a while now," Zell says.
She says the local master gardeners focused on ornamental plants, mostly. Through a search of local landscaping companies, she met a friend who referred her to Moring. She's been his student ever since.
"It's been great," she says. "It's the exact education I've been seeking because it's exactly the way I think we should garden. You need to use the land around your house in the most productive way possible."