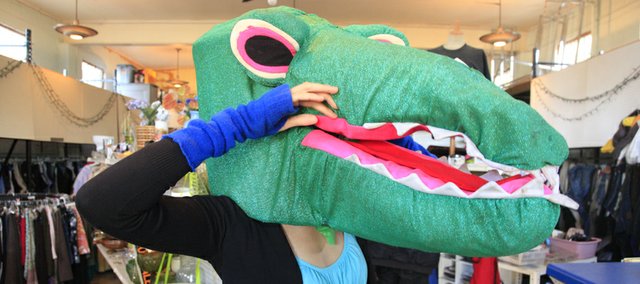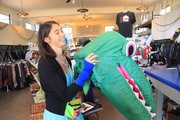 The streets fill with vampires, monsters and zombies on Halloween. But there is one specter the citizenry need not fear: waste. Costumes, pumpkins and decorations can all be reused or recycled, and Lawrence counts on more than enough resources to ensure that the holiday won't contribute to the landfill or damage the pocketbook.
One example is the local thrift store. Kendra Davis, assistant manager of Social Service League, 905 R.I., says she sees many shoppers frightened not by the ghosts and ghouls, but by the prices of ready-made costumes in area stores.
"I told him to get a bucket of fake blood and some ratty clothes," says Davis of one such father of six. "He has four boys. What boy wouldn't like to cover himself in blood?"
Davis wasn't being flippant. The League makes a specialty of turning its vast supply of donations into Halloween creations. And many of the participants in the Lawrence Zombie Walk on Oct. 7 had purchased their costumes from The League.
"We're big on build-your-own costumes," says Davis, who plans to mine the store herself for her own outfit as ax-wielding temperance advocate Carrie Nation.
Jean Ann Pike, store manager, says the wide variety of used items at the store lent themselves to mixing and matching. "It's supposed to be repurposed," she says.
Across town, Lawrence residents Stuart Merz, Tommy Finch and Thomas Baker discovered another treasure trove at the Salvation Army Thrift Store, 1601 W. 23rd St. They visited the store and found the black shirts they needed to recreate the band Kiss.
The boys said they would likely keep looking to complete the costume at Goodwill, 2200 W. 31st., hoping to keep the price tag at $10 to $15 apiece.
"Don't forget the spikes," Finch says.
Employees at the Salvation Army have seen many Halloween shoppers find their costumes at their store.
"They're actually enjoying the vintage section we've made," says Tina Hernandez, store manager. "It gets pretty creative. We've got some really weird stuff in there."
The vintage section features old-fashioned dresses, aprons, chaps, '70s shirts, denim items and acid-wash clothes.
Once the holiday is over, the recycling can continue, as shoppers can donate the costumes back to thrift stores like The League or the Salvation Army. Or, people can post their costumes on websites like Freecycle.org, which connects people who need specific items with others who want to give certain things away. For example, on the Lawrence chapter of the site, users have posted requests for Batman costumes and Halloween masks.
Recycling on Halloween can go further than just the costume. Cassandra Ford, waste reduction and recycling specialist for the Public Works Department, provided some simple tips on how everyone can protect the environment and have a fun holiday at the same time.
• Trick-or-treating on foot — rather than driving — saves gasoline.
• In lieu of a plastic candy bucket, use a pillowcase or grocery bag.
• Ford advises that durable house decorations that can be used again the following year are the most eco-friendly. Any paper, plastic or metal decorations that can't be used again can be recycled.
• And what about those pumpkins, often left to spoil on doorsteps? The insides of pumpkins are good for making bread and pie, and the seeds make a nutritious snack when roasted. After Halloween, the jack-o'-lantern itself can be composted along with food scraps and yard waste.
• And traditionally, Lawrence has done pretty well with being green on Halloween. Craig Truett, a supervisor at the Solid Waste Division of Lawrence public works, says he doesn't think Lawrence produced an unusual amount of garbage over the holiday.
"The only thing we see coming to the curb might be pumpkins," he said. "Other than that, it's just the usual."
Truett says the city will pick up pumpkins for composting on Monday mornings, just as it does with grass, leaves and other yard trimmings. He estimates between 2,000 and 3,000 pumpkins go to the city compost every year.