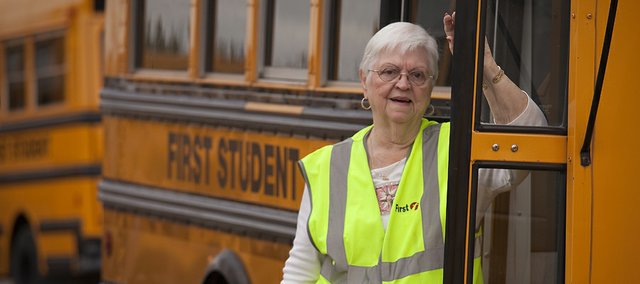 American Legion Auxiliary volunteer and school bus attendant Eloise Kerr has ridden motorbikes across the country, flown on small planes, camped at Clinton Lake and, with her grandchildren's help, keeps up-to-date with modern technology.
She tried early retirement in 1993. It wasn't for her.
"I was surprised to find I didn't like sitting around the house with no real purpose," she says.
"After a year, I decided to look for work without deadlines, payroll and dealing with the government. School buses came to mind, but I didn't want to drive. Being a bus attendant for autistic and ESL students seemed perfect for me."
It was. She's been doing it for 17 years and loves it.
She became an American Legion Auxiliary member the same year and has served in every office at district and state level since then.
Born in Princeton, Kan. in 1933, Kerr and her family moved to Lawrence in 1942, where her father worked at the newly opened Hercules Plant. She met and dated her husband, Dale, at Liberty Memorial High School.
"Dale inspired me with a great sense of adventure. I did things with him I'd never have done on my own," she says.
She graduated in 1951, worked at Standard Oil Bulk Plant, married in 1952 and moved to Washington, D.C., for two years where Dale served in the U.S. Navy.
"Dale stood on the White House steps as part of President Eisenhower's inaugural honor guard," she recalls. "I stood nearby. It was a wonderful experience for both of us."
They returned to Lawrence after Dale's discharge, and she became a full-time mom to their three children. She returned to work as a bookkeeper/secretary in 1966 and worked for various companies before moving to Topeka's American Legion office in 1980.
"Dale and I were very active in the American Legion, so the Topeka job was ideal for me," she says.
She and Dale enjoyed going on cross-country motor-bike rides and flying small planes. They planned early retirement to enjoy more travel adventures and bought an RV camper van. Sadly, their dream didn't materialize. Dale was diagnosed with brain cancer in 1990 and died in 1991.
"The American Legion guys were absolutely amazing during Dale's last year," she says. "They were with us every step of the way and formed teams to check on us and visit regularly. I couldn't have managed without them."
Inspired by her husband's spirit, Kerr tried her first solo adventure.
"I parked the RV at Clinton Lake and spent most weekends and some weekday nights there for eight years and worked in the ticket booth," she explains. "It wasn't the same without Dale but I felt his spirit with me."
Kerr remains active in the American Legion, and loves supporting autistic and ESL students on their journeys to and from school.
"Every student is different and they face their own challenges," she says. "I enjoy visiting with them and hope I make a difference in their lives."
Retirement plans? They're not on her horizon.