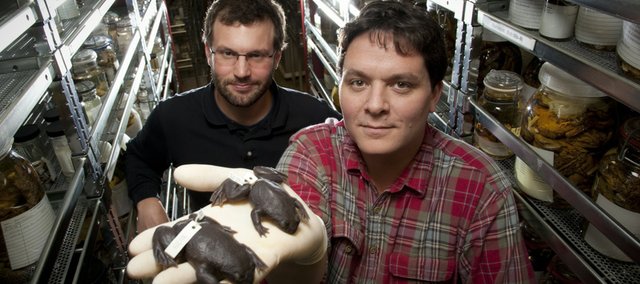 Thursday, October 28, 2010
SciencePalooza
Tapas & Tours
When: 6:30 p.m. Saturday
Where: Natural History Museum, KU campus
Cost: $75 per person, 864-2344
The Science of Beer
When: 7 p.m. Wednesday
Where: Free State Bottling Facility, 1927 Moodie Road
Cost: $60 per person, 864-2344
The Elders and True North
When: 8 p.m. Nov. 5
Where: Liberty Hall, 642 Mass.
Cost: $25 per person or $50 for VIP, 749-1972 or Ticketmaster.com
Win one of eight pairs of tickets to The Elders and True North concert Nov. 5!
Just follow Lawrence.com's Twitter account,
@lcom, and @-reply to us with your favorite museum exhibit of all time and the hashtag #scipalooza. Example: "Hey @lcom, I loved the live velociraptor house when I was a kid. #scipalooza"
We'll draw winners at noon on Thurs., Nov. 4 and contact them by Twitter direct message. Full rules are
here
. Looking forward to hearing your museum memories!
Even those who have been to the KU Natural History Museum before have never had this experience.
"When do you get to eat on linen-covered tables surrounded by animals in their habitat?" asks Janet Martin McKinney, chair of the board of advisers for the museum and Biodiversity Institute.
McKinney is talking about SciencePalooza, a three-event fundraiser for the museum beginning with an evening at the museum that starts with a tour and appetizers served in the museum's more than 100-year-old panorama of preserved and stuffed animals. The event, called Tapas & Tours, will include food from around the world. It takes place Saturday.
There will also be an opportunity to adopt specimens, says Jen Humphrey, communications director for the museum.
"There are many opportunities throughout the museum to have a big impact on exhibits for $5,000 to $10,000," Humphrey says.
The museum serves more than 60,000 people per year, and it needs money to update exhibits, plan science education classes for children and adults and to fund other programs.
"The museum exhibits could use a little love. We want to improve them, and we don't have enough state support to do what we want to do," Humphrey says.
State funding for the museum has been dwindling, McKinney says. The museum holds many memories for Kansans, and the museum needs to be taken care of for future generations, she says.
Rare sights
Tapas & Tours will also include a showcase of unique specimens in the possession of the museum, ones that are rarely displayed.
"The specimens I'll be showing to visitors are some of the most enigmatic and mysterious frog species that occur in Southeast Asia," says Rafe Brown, curator-in-charge of the herpetology division of the Biodiversity Institute. "These frogs are very rarely seen by biologists, and almost nothing is known about their natural history, reproduction and general biology."
Brown oversees nearly 330,000 research specimen at the Biodiversity Institute and will be on hand for a behind the scenes tour.
"I think often students, staff and professors walk past the museum in their daily life and may not know what goes on behind the public exhibits section," he says. "SciencePalooza is a great opportunity to highlight the research findings and biological treasures that make up the Biodiversity Institute's world-class collection."
Brainy brews
The Science of Beer, held in conjunction with Free State Brewing Company, is a night of beer and food sampling. Free State staff will discuss the history of hops and yeast, and they will lead a discussion of the challenges in the brewing process.
"Brewing is a practical application of multiple scientific disciplines and is a scientific endeavor that even English majors can appreciate," says Chuck Magerl, owner of Free State.
The event Wednesday will be set up in stations. Guests will be able to carry around tasting glasses while learning about different beer-related science topics at each stop. They will also be able to sample beers in different stages of fermentation.
"The brewery is not a palace, it's much more of a laboratory workshop with a lot of stainless steel, botanicals and microbes. It's great to show it off and entertain questions about the science and motivation for what we do every day," Magerl says.
Magerl, who is a board member at the museum, said Free State's participation stems from their own appreciation of what the museum provides for the community.
Beyond fundraising, the museum hopes to make a connection with the Lawrence community.
Rock science
SciencePalooza concludes with a concert featuring The Elders and True North on Nov. 5.
True North is a country rock band, while The Elders is an award-winning band known for their Irish/Celtic roots with an Americana influence, says Steve Phillips, a band member of The Elders. The band incorporates guitar, mandolin, vocals, fiddle, drums and keyboard into their music.
The Elders, from the Kansas City area, tours Germany, Ireland and the United States but hasn't played in Lawrence for many years.
The Elders members hope to gain a few new fans while helping the community and the museum, Phillips says.
VIP seats will be available for the concert as well in blocks of four tickets. VIPs will sit up front and have the opportunity to meet the musicians.
Organizers hope these offerings are just the first in a series of fundraising events this year for the museum. Updates will be on its website, http://naturalhistory.ku.edu.
"I hope these events will result in us getting to know the people of Lawrence a little better ... and the local public getting to know their museum community on a first-name basis. We're here year-round, with doors open to the public. It's a great place to spend a Saturday afternoon," Rafe Brown says.