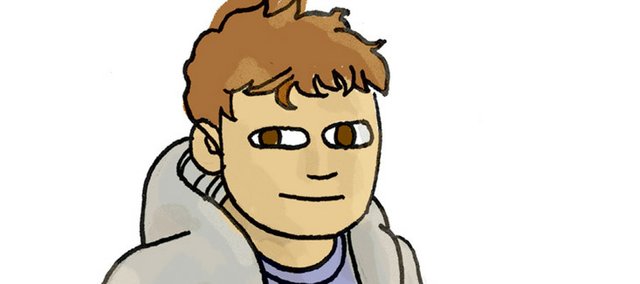 Photo Gallery
Last-minute costumes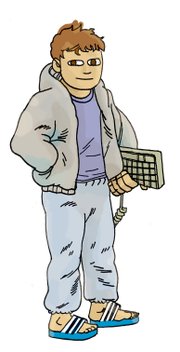 Quick and cheap, these costume ideas can all be pulled off with household items in just minutes.
Time to get your Halloween game face, er, mask, on.
No costume? No problem.
So what if that Halloween party snuck up on you like the emptiness of the candy bowl you filled for the "kids"?
It's never too late to be festive.
We here at Lawrence.com and Pulse have come up with last-minute costumes that are not only quick and easy to put together, but fun and topical — without costing you a fortune or turning you into a bad take on Lady Gaga's gaudy stage wear.
That said, for your holiday party consideration, we would like to offer you:
Mark Zuckerberg. Hoodie (preferably gray), jeans, white socks and Adidas slides if you've got them. Add a keyboard and act like a jerk. Done. But don't spend the whole night pretending to be coding or writing a blog about your ex in which you compare women to farm animals. That's taking it a wee bit too far.
Vamp it up. Heading to a party like Sookie Stackhouse of "True Blood" is as easy as black pants, a white shirt (bonus points for writing Merlotte's on the front), tennis shoes and two dots of lipstick on your neck to make you look like you've been canoodling with vampires. Got a guy? Dust his face with some flour and call him Bill. Or Eric. Yes, definitely Eric. And, we suppose, if you're not over the Bella-Edward-Jacob love triangle, you could just apply all of these ideas to the teen trio at the center of the "Twilight" saga — just wear jeans and a dreary looking sweater to be Bella or Edward (add the flour for Edward). As for Jacob, just lose the shirt, paint on some abs, and howl occasionally.
Your former self. An easy one straight from your closet. All you'll need are some old clothes plus one of those stick-on "Hello My Name Is ..." name tags. Just dress up in your old clothes, do your hair and/or makeup how you did back when that outfit was in rotation and write on your name tag your name and year, for example "Bob circa 1995." Extra credit if you act like you used to back then (though we're not at fault for any social strife this may cause you).
'Jersey Shore' cast members. Easy, simple and annoying, all at the same time. All you'd need is very little (tight) clothing, lots of makeup for the gals and hair gel for the guys. Warning, if it's a cold night, we're not responsible for your frostbite.
Mad Men/women. OK, yeah, we know that you probably don't have Joan Harris's wardrobe just lying around (or her figure for that matter, no offense), but with a quick trip to a thrift store, you might be able to find a suitable dress or fedora to make Joan, Don, Betty, Roger or Peggy work for you. Just don't forget the hair and/or makeup. It might also be smart to carry around a (empty!) brandy snifter.
Chilean miner. Just think, all you need are some work boots and coveralls and sunglasses. Maybe a smudge or two of something that looks like coal dust on your hands and cheeks (newspaper ink, dark cocoa powder, ash, a rubbing from charcoal?) to look like you've possibly been in a mine since August. It's one of the most joyous happy endings of the year; why not immortalize it in costume?
Project Runway designers. As much as we love the show, the designers themselves are tragically easy to parody. All you need are a bunch of mismatched clothes (which the designers always seem to think are fashionable despite them not really ever being fashionable), a harried expression and a pin cushion attached to your wrist.
College student. Guys just need to wear jeans, college-labeled shirts and hats. Girls might have to brave running shorts and flip-flops, but hey, at least it's way more clothes than the "Jersey Shore" cast or the entertainment industry's beloved half-naked werewolves.
The old standby. Got an old sheet? Go as a ghost. The sheet doesn't even have to be white. Plus, having a sheet over your head might even keep your hand out of the candy dish for a split second.