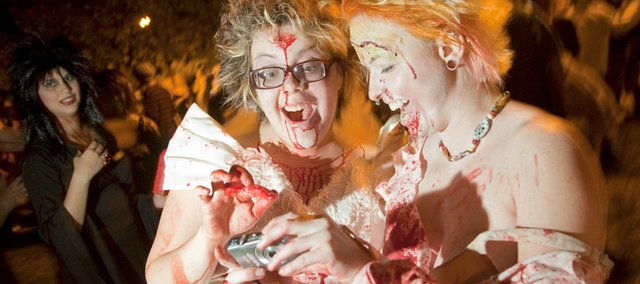 As spooks and goblins assemble for All Hallow's Eve today, a season of holidays and the gathering of family and friends begin. Other than vacations, graduations and sporting events, no other activities bring out cameras as much as these family occasions.
Having photographed these activities with simple point-and-shoot (P&S;) cameras and professional gear, I've dealt with the various difficulties they can present for picture takers. Here are two pieces of advice to help you capture better images and survive these photogenic holidays.
Go wide. For mummy-crowded sidewalks or large indoor gatherings around the turkey, a camera with a wide-angle lens is helpful. Wide-angle lenses take in a broad angle of view and work well in confined spaces. They enable you to photograph close to a subject yet still capture a sense of the environment. If you use a digital single-lens reflex (DSLR), 35mm camera, I consider the 28mm lens to be a great choice. On P&S; cameras, because they have smaller sensor sizes, a 28mm equivalent will be around 5.8 or 6mm. A wide-angle lens is also much easier to hold steady in low light.
Light it up. For nice results indoors, in low light, I prefer to bounce a flash off a ceiling when using my DSLR camera. I mount a separate tilting-head flash on my camera's flash shoe and set the flash on "auto" or "through-the-lens" (TTL) metering. This technique does a nice job spreading light evenly around a room. If I'm using a P&S; camera, I turn my flash off. Flash indoors creates harsh direct light and should be avoided if possible. Instead, I look for ways to support my camera to enable longer exposures or, as noted above, use wide-angle lenses that can help photograph with slower shutter-speeds. However, outdoors, as in the dimming light of Halloween, I will use flash. I locate my camera's flash controls and select the "ON" or the "Slow-sync" setting. In the camera's automatic exposure mode, this setting will force the flash to fire but will maintain a proper exposure for both the subject and the scene's ambient light. Just know that the darker the ambient light, the longer your shutter-speeds will become. And this is where you should read tip #1again.
Happy picturesque and grotesque Halloween.
Some of these photography issues and other basics of using a camera will be part of a "Photography 101" course taught by Tim Forcade and myself. Two classes, Nov. 7 and Nov. 22 are planned. Contact me for information at myoder@ljworld.com