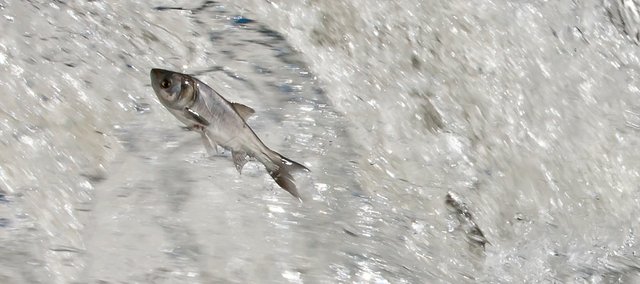 Wednesday, September 1, 2010
This is no fish story, it's the real thing.
Last Friday morning Pete Haack and his wife, Emily, were out for a walk with their dogs Farley and Lucy at the Clinton Lake dog park.
The dogs led them to the Clinton Lake outlet park near the dam. There, they saw an interesting sight: hundreds of silver fish were jumping several feet out of the water at the base of the waterfall.
"Lucy jumped into the water to try to catch the fish, and she ended up going down the 4-foot waterfall," Haack says. "In six years of going to the park, I've never seen anything like it."
That morning, Pete had read a story in the Journal-World about these unusual fish known as Asian carp. The fish are generally about 10 inches long and can weigh between 10 and 60 pounds. While the jumping can be mysterious sight, the fish can pose a danger to boaters and fishermen, who could be targets for the fish.
Asian carp are also infesting Kansas waterways, crowding out native fish.
Pete and Emily Haack are professional photographers, operating belltowerphoto.com. So they returned to the dam on Saturday with a camera, a Canon 40D.
There again were the fish, putting on their jumping show.
"It was just bizarre," Pete says.
More like this story on Lawrence.com